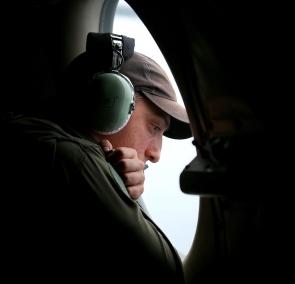 The captain of Flight MH370 has been identified as the prime suspect by a Malaysian police investigation into the disappearance of the plane after checks cleared all other people on board, a media report said on Sunday.
The criminal inquiry does not rule out the possibility the Boeing 777-200 plane was lost due to mechanical failure or terrorism, but the police view is that if it was the result of human action, the captain was the most likely perpetrator, The Sunday Times reported.
Malaysia's special branch focused the inquiry on Captain Zaharie Shah, 53, after intelligence checks failed to substantiate any suspicions about the other people on board the jet, the report said.
The Beijing-bound Flight MH370 -- carrying 239 people, including five Indians, mysteriously vanished on March 8 en route to Beijing from Kuala Lumpur. The disappearance of the plane is one of the greatest mysteries in aviation history.
Detectives conducted more than 170 interviews. They found that Zaharie, an outgoing, married man with a penchant for gadgetry and postings on social media, appeared to have made no social or work commitments for the future, the report said.
This stood in contrast to the plans of his co-pilot, Fariq Hamid, and the rest of the crew. The investigators found that Zaharie had programme a flight simulator in his home with drills rehearsing a flight far out into the southern Indian Ocean and a landing on an island with a short runway.
These were deleted but computer experts were able to retrieve them, the report said. The pilot had made no secret of his unusual hobby, creating aviation videos that were posted on the internet. But behind the facade of a normal family life in a comfortable
Kuala Lumpur suburb, with three children and a five-year-old grandson, the police heard rumours of marital estrangement and tensions that have been denied by Zaharie's family, it said.
The initial results of the inquiry have not been published but have been shared with foreign governments and investigators, the report said. They were disclosed by people in the aviation industry and government officials in southeast Asia, it said.
"The police investigation is still ongoing. To date no conclusions can be made as to the contributor to the incident and it would be sub judice to say so. Nevertheless, the police are still looking into all possible angles," the Malaysian police was quoted as saying by the British daily.