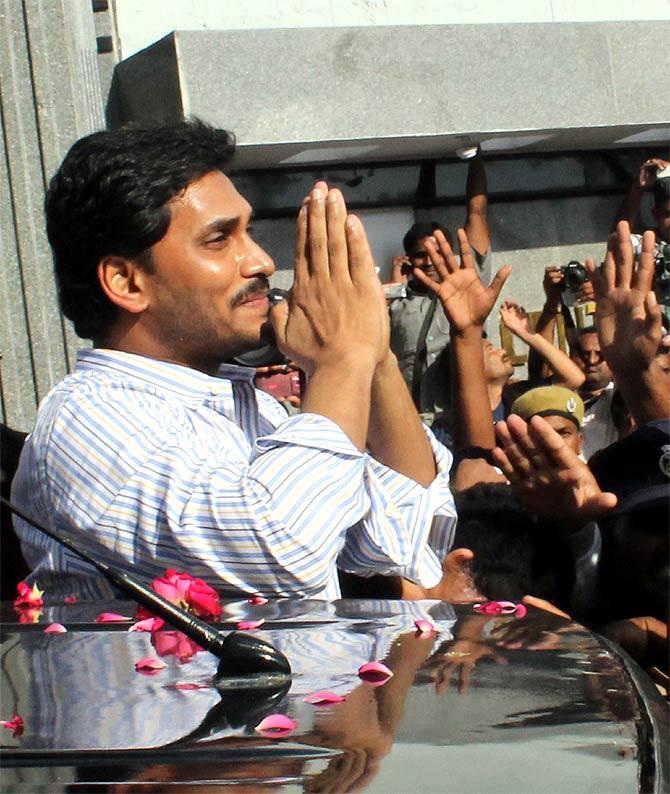 Thousands of protestors from Andhra Pradesh on Monday gathered in New Delhi to participate in an anti-Telangana agitation over the proposed bifurcation of the state.
In order to stall the Telangana bill and urge the government to withdraw its decision, the YSR Congress of Jagan Mohan Reddy and Seemandhra government employees will protest in different parts of the city.
Due to security concerns, three metro stations have been shut till evening in the heart of the city.

Sitting on a dharna along with a large numbers of supporters at Jantar Mantar in New Delhi, Jagan charged that the ruling party came up with the idea of dividing the state with the sole aim of making Rahul Gandhi Prime Minister as it hoped to win some seats by aligning with TRS in Telangana.

Referring to Sonia Gandhi's Italian background, he dubbed the Indian National Congress as "Italian National Congress" and said, "Even Britishers did not do what she did to my state of Andhra Pradesh".

He said the use of a pepper spray by a Congress MP in Parliament to protest the state's division was a Congress conspiracy to suspend Seemandhra MPs.

"Congress has engineered the chaos. They have plotted it... Knowing very well that their fortunes are down to practically zero, these people have ignited passions. Months before elections they have broken my state," he charged.

The Seemandhra MPs were "undemocratically" suspended by Parliament to muzzle their voice. "The ruling party wanted to push through the Bill to create Telangana without any debate," he said

The YSR Congress leader said that he would support anybody, including BJP's Prime Ministerial candidate Narendra Modi, if they support the move to keep Andhra united.

The government recently approved the creation of Telangana, a move that has revived deep political divisions in Andhra Pradesh and raised fears of violence in the area between pro and anti Telangana groups.
"You will have to take back your decision immediately. If not, we are coming to Delhi, we are showing our strength then only you have to withdraw your decision," said Rami Reddy, a protestor from Guntur.
Earlier this week, the parliament erupted in mayhem when a lawmaker fired pepper spray in the house in protest against the Telangana Bill, which left lawmakers coughing, sneezing and holding scarves to their faces. The agitated protesters also broke a glass table and broke an official's microphone.
The furor erupted after Home Minister Sushilkumar Shinde rose to table the bill.
Andhra Pradesh MP Lagadapati Rajagopal, who was later expelled from the Congress, then unleashed a pepper spray.
The decision to divide Andhra Pradesh comes ahead of the general elections next year.