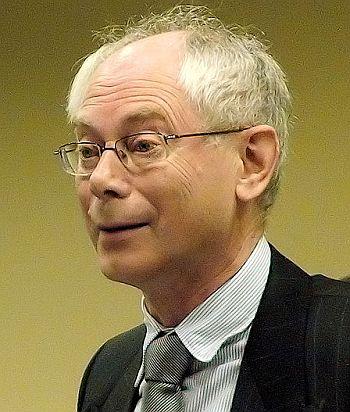 Belgian Prime Minister Herman Van Rompuy has been elected as the first President of the European Union, while Britain's European Trade Commissioner, Baroness Ashton, is the new Foreign Minister of the council.
Poet-economist Van Rompuy is almost unknown outside Belgium.
A staunch advocate of European integration, he has backed policies, including a European-wide tax on all financial transactions, to fund EU work, The Telegraph reports.
Baroness Ashton is a former health authority chairwoman, who became a Labour peer in 1999. She held a string of low-key ministerial posts until last year when British Prime Minister Gordon Brown sent her to Brussels as interim replacement for Lord Mandelson on his return to the Cabinet.
The unexpected duo emerged after Brown dashed Tony Blair's hopes of becoming President by abandoning his support for the latter and proposing Baroness Ashton for the foreign job instead.
Brown had publicly campaigned for Blair to take the presidency, but switched positions after European socialist leaders made it clear that they would not support Blair.
"As it became clear that the chances of a Blair presidency were declining, the Prime Minister made a decisive intervention and nominated Baroness Ashton," Downing Street sources said.
Brown's switch also surprised European leaders as Baroness Ashton lacks diplomatic experience.
"She would be a first rate disaster," said Peter Ludlow, of the European Strategy Forum, a Brussels think-tank.
French diplomatic sources questioned Britain's seriousness over proposing Baroness Ashton for Europe's senior-most foreign affairs post.
"We think it is a British trick to point at Ashton while really preparing the ground for someone or something else. She has little experience and is a bizarre choice. It would be a sign that European diplomacy is downgraded to an economic policy post," said a French official.