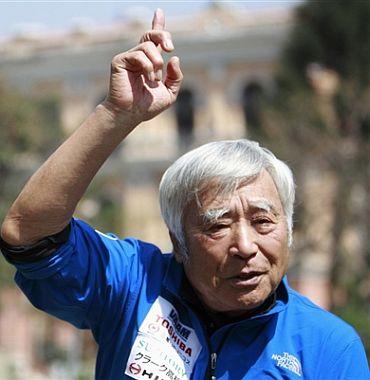 An 80-year-old Japanese national has set a new world record by becoming the oldest climber to reach the summit of Mount Everest, world's highest peak.
Yuichiro Miura, a professional mountaineer summited the 8,848 metre high peak at 9 am on Thursday, said Tilak Pandey, an official at Ministry of Tourism and Culture.
Miura was accompanied by his son Gota Miura, a professional skier, and eight other climbers on top of the world.
With this Miura has taken away the record from his closest rival Nepalese climber Min Bahadur Serchan who scaled the world's highest peak in 2008 at the age of 77, becoming the oldest person to do so.

Incidentally, Serchan had also broken the previous record set by Miura, who had climbed the Everest at the age of 70 in 2003 and became the oldest summitter then.
Even this time the 81-year-old Serchan too has reached the Everest base camp and has reportedly started the journey towards the peak.
Local media reports quoted Miura's website where he termed his attempt to scale Everest at such an advanced age as a "challenge to his own ultimate limit" and as a "honour to the great Mother Nature".

"And if the limit of age 80 is at the summit of Mt Everest, the highest place on earth, one can never be happier," he said in his website.