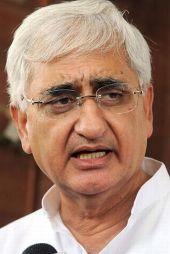 Salman Khurshid on Sunday took over as the external affairs minister, the only minister to assume the charge immediately after the swearing-in ceremony.
"The prime minister and Congress president have placed a very very important responsibility on my shoulders. It will be my endevour to ensure that I live up to their very high standards," Khurshid, 59-year-old lawyer by training, said after taking over from his predecessor S M Krishna at South Block.
Asked if his appointment despite the controversy surrounding him over charges of financial bungling by a trust run by him and his wife was a clear indication of the confidence he enjoyed of the government and the party, he said "it is for others to judge" and added that one cannot "surrender" before those who just make allegations.
On his priorities in the new ministry, he said the "world has changed a lot since I was last in MEA. Dramatic changes have taken place and foreign affairs has shifted greatly towards economic and security issues. Cross border terrorism has changed in truly intricate ways and world has become a village. Our international profile has changed, engagement with world has changed many dimensions."
He also said that he will take forward the foreign office policy vision of the prime minister. Khurshid was Minister of the State in the MEA from 1993 to 1996.
The minister was briefed for nearly an hour by the MEA officials, including Foreign Secretary Ranjan Mathai on the meetings scheduled for next couple of days that include parleys with former Bangladesh Prime Minister Khalida Zia and conference of Indian Ocean Rim-Association for Regional Cooperation to be attended by 10 foreign ministers.
"We have flagged the items on which formal briefings will begin on Monday. It is a learning curve which will have to be pretty steep because we really hit the ground running.... It is indeed an honour and great responsibility to become part of one of India's greatest tradition and that is India foreign policy...," Khurshid said.
He is the third Muslim to become External Affairs Minister after M C Chagla (14 November 1966 to 5 September 1967) and Sikander Bakht (21 May 1996 to 1 June 1996).
A member of parliament from Farrukhabad Lok Sabha constituency, Khurshid was born in Aligarh and was actively involved in reviving the Congress party in Uttar Pradesh.
He is taking over the ministry at a time when India is assuming greater global stature and the developed world, reeling from the global downturn, is looking at New Delhi afresh as an emerging economic power.
On his views on India's neighbours, he said, emergence of new economic growth has brought India and China much closer.
On Pakistan, he said India has been raising issues of concerns with Pakistan but it was too early for him to give any ideas on potentials or pitfalls with them.