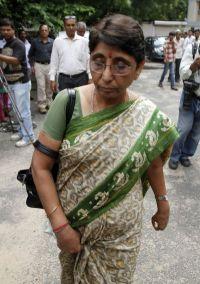 Former Gujarat minister and life-term convict in Naroda Patiya riot case Maya Kodnani has applied for bail before the Gujarat high court on medical grounds.
The bail application is expected to come up for hearing after the Diwali vacation.
Kodnani, an ex-minister in Narendra Modi cabinet, who is currently undergoing treatment in a hospital, has sought the relief for six months, her counsel said on Monday.
According to her counsel, Kodnani has submitted medical certificates with her petition, filed two days ago, explaining the grounds for seeking bail to avail of further treatment.
A special SIT court had in August 2012 sentenced her to 18 years life imprisonment in connection with the 2002 riots at Naroda Patiya where 97 people were brutally killed.
She will, however, have to serve 10 years in jail under section 326 (voluntarily causing grievous hurt by dangerous weapons or means) of IPC before her life sentence gets underway, thereby effectively getting a 28-year imprisonment.
Among 29 others convicted by the court, seven persons, including Bajrang Dal leader Babu Bajrangi, were given enhanced life term and they will have to first serve a 10-year term under section 326 before their life sentences begin whereas 22 others were given simple life imprisonment of 14 years.
Kodanani, who was made Minister of State for Women and Child Development in 2007, resigned after she was arrested in the case in March 2009.
The massacre had taken place a day after the Godhra train burning incident of February 27, 2002.
Image: Maya Kodnani
Photograph: Amit Dave/Reuters