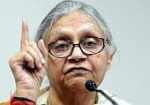 After drawing strong criticism for asking Delhiites to cut use of power if they cannot pay high electricity bill, Chief Minister Sheila Dikshit was in a damage control mode on Monday as she said her comments were taken out of context.

"My comments were wrongly interpreted. May be I have used the wrong words. But I was trying to talk about power conservation. We have been focusing on conservation of energy," Dikshit said
Addressing a public meeting at Aya Nagar in Chhattarpur area of South Delhi, Dikshit had on Sunday said people should cut use of power if they cannot afford high electricity tariff. The prescription evoked strong criticism from the Bharatiya Janata Party.
Stating that the consumers will have to pay if they want round-the-clock electricity supply, Dikshit went on to say that if people are finding it difficult to pay the billed amount they should cut down consumption on various electrical appliances.
"We have been supplying power round-the-clock. We are not supplying power periodically. When 24 hours supply is ensured then the Opposition says bill is too high. If you consume electricity for 24 hours, then you do not pay for five hours' consumption.
"If you cannot afford the electricity bill then cut down your consumption of electricity. Future generations will never realise there used to be seven to eight hours power cut in Delhi," she had said.
The chief minister even asked people to use one bulb instead of two or use fans instead of coolers if they cannot afford to pay high electricity bills.
Delhi BJP president Vijay Goel had slammed Dikshit for the remarks and accused her of "favouring" discoms and ignoring the alleged corruption in the power distribution companies.