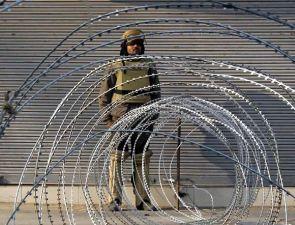 Killing of two youngsters allegedly in army firing triggered massive protests in Markundal village of north Kashmir's Bandipore district on Sunday.
A senior police officer said army had cordoned off the village early Sunday morning on specific information about the presence of militants in the village.
Villagers alleged that during the cordon troops fired at a youth who had stepped out of his house killing him on the spot.
The news about the killing of Irfan Nabi Ganai, 18, set off massive protests in the village during which angry villagers indulged in stone pelting on security forces.
The security forces opened fire to control the situation during which four protestors were injured. One of the injured was identified as Irshad Ahmad Dar, 28, who succumbed later.
A senior army officer told a news conference that "there was a firing incident in the village which we had cordoned off on specific information in a joint operation with the police."
"We have ordered an investigation into the incident. We condole the bereaved families and assure them that if anybody is found guilty he would be dealt with sternly," GOC Victor Force R R Nimbodkar told reporters.
Senior district officers visited the spot assuring villagers of a thorough enquiry into the incident.
High tension has gripped the village and adjoining areas where security has been beefed up.
The hardline separatist leader, Syed Ali Shah Geelani, has called for a protest shutdown on Monday against the killing of the two youngsters.