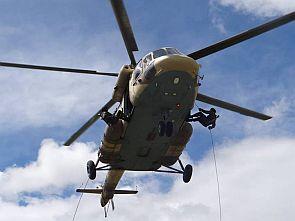 Documents seized by security forces in Maoist-hit Koraput district reveal that the rebels appear to have started training cadres to gun down helicopters used in ferrying security personnel for counter-insurgency operations.
This came to light after security forces recovered certain documents listing techniques to shoot down choppers and other aircraft from Maoist camps in Naranga forest of Narayanpatna two days ago.
"We suspect the Red rebels are being trained in it (bringing down choppers)," said DIG (BSF) Sumer Singh.

"As the documents are in Telugu, we are taking the help of a translator," he added.
As Maoists frequently attack security personnel by planting landmines and ambushing patrolling teams, security forces prefer the aerial route. This has prompted Maoists to learn techniques to target helicopters, Singh said.

He said if the Maoists get the technology and arms to shoot down choppers, the security personnel would face tough challenges while executing anti-extremist operations. "Top officials of security forces go to Maoist-hit areas in helicopters to assess the situation. If the Red outlaws succeed in targetting choppers, a major mishap might take place," he said.
However, police believe that with the arms they have, the Maoists cannot target helicopters.
"Generally Maoists try to fire at copters carrying security forces at the time of landing and take-off. But they have never been successful as around 2 to 3 km radius around the helipad is sanitized," said SP (Malkangiri) Akhileshwar Singh.
"All necessary precautionary measures will be taken to ensure the Maoists never get a chance to target choppers ferrying security forces," he added.