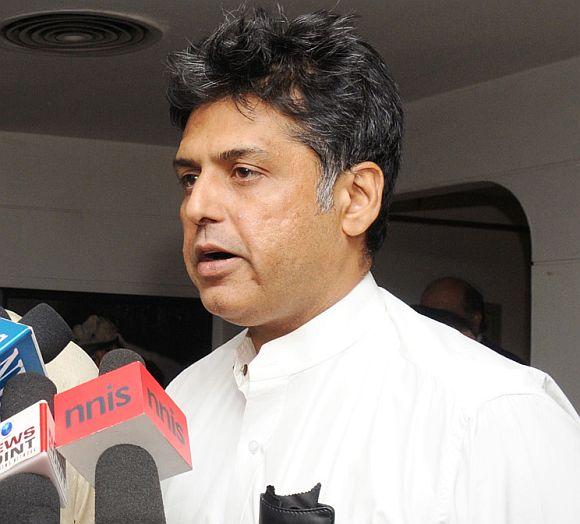 Union Information and Broadcasting Minister Manish Tewari was on Monday granted bail by a local court in connection with a defamation case filed by senior Bharatiya Janata Party leader Nitin Gadkari.
Tewari appeared in person before Metropolitan Magistrate S S Gulane along with his lawyer Manoj Mohite and filed a bail application. The magistrate, presiding over the court in South Mumbai, granted bail to Tewari on a personal bond of Rs 10,000, though his plea was opposed by Gadkari's lawyer Rameshwar Gite.
On March 7, the court had issued process against Tewari and taken cognisance of the complaint filed by former BJP president Gadkari against the Union minister for allegedly defaming him. The magistrate had asked Tewari to appear on Monday. Accordingly, he came to the court and applied for bail, which was granted.
Gadkari had dragged Tewari to the court in December 2010, when the latter, as the Congress spokesperson, allegedly accused the former BJP chief of holding 'a benami' flat in the scam-tainted Adarsh Society in Mumbai. According to Gadkari, Tewari's statement was highly defamatory and lowered his reputation in the eyes of public.
His image was shattered in the society with such defamatory remarks made by the minister, he contended. Gadkari further said it was his "serious objection regarding the corruption scam in the name of Adarsh" that had led to the then Maharashtra chief minister stepping down and the Central Bureau of Investigation filing a case.
The Congress, he said, was "annoyed and aggrieved with him for Gadkari's expose on corruption eroding the party's administration in the state." Countering that, Manish Tewari made a "false and malicious" claim that he (Gadkari) owned a benami flat in Adarsh, the complaint alleged.
Gadkari argued that Tewari had allegedly committed a criminal offence of defamation and hence he should be tried under the Indian Penal Code for such act.