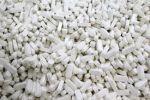 A Manipur police havildar has been arrested after illegal drugs worth around Rs three lakh were allegedly found in his possession in Imphal East district, police said on Wednesday.
Acting on a tip-off, commandos of Imphal East district police searched Hatta area in the district and arrested Havildar Md Nazimuddin, 29, attached to Imphal west district police commando unit, along with 12,034 illegal pseudoephedrine SP tablets while it was being unloaded from a vehicle.
They said the tablets were brought from Guwahati and the driver of the truck identified as Md Hasim was also arrested by the commandos.
During interrogation, Nazimuddin allegedly confessed to the police that he had smuggled illegal tablets to Manipur on two previous occasions, they said, adding that both were still in police custody for further interrogation.
Various social organisations including different women's bodies have been demanding strict punishment to drug traffickers who frequently smuggle illegal tablets and narcotic drugs to Manipur as it was spoiling the lives of thousands of youths in the state.
Official reports said the organisations have also been organising sit-in protests against drug traffickers at different parts of the state in the past few months to build public opinion against the drug smugglers.