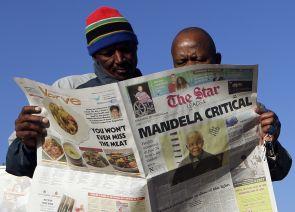 Relatives of anti-apartheid icon Nelson Mandela Tuesday gathered at his rural ancestral home in Qunu to discuss "delicate matters" relating to the 94-year-old leader who is battling for his life at a hospital.
The meeting came two days after South Africa President Jacob Zuma gave the strongest indication yet that all is not well with the ailing elder statesman, who will turn 95 on July 18.
"Former President Mandela remains in a critical condition in hospital. The doctors are doing everything possible to ensure his well being and comfort," said Zuma after visiting Mandela at the MediclinicHeartHospital on Sunday.
There's been no update on the Nobel Peace Prize winner's health condition since then even as a jittery nation prayed for their charismatic leader.
Briefing media about the family gathering at Qunu in the Eastern Cape where the revered statesman spent his childhood, Napilisi Mandela, an elder in the family, said the meeting had been called to "discuss delicate matters" on Mandela.
The meeting also includes chiefs of the Abathembu royal family, with Xhosa cultural scholars saying such a meeting takes place when someone in the family is critically ill. The elder usually presides over family meetings and traditional rituals in the Mandela clan, they said.
Makaziwe Mandela, daughter of the president from his first wife Evelyn, who is also at the meeting, appealed to media to respect the family's privacy. "We haven't come to the end yet. It is only God who knows the end," she told media.
Earlier, South Africa's presidency has accused media of crossing the boundaries of medical ethics while covering the deteriorating health condition of Mandela.
The presidency spokesperson Mac Maharaj said Mandela's privacy and dignity is at stake.
"The doctors have indicated very firmly that some of the reporting is transgressing on medicals ethics, not just in relation to doctor/patient confidentially, but in relation to the way in which doctors are being interviewed for their opinion," Maharaj was quoted as saying by local media.
As local and international media continents increased outside the Pretoria hospital, people all over the country were engaging in prayer meetings at schools and public venues, including churches, mosques and temples.
"All I pray for as a daughter is that the transition is smooth. He is at peace with himself. He has given so much to the world. I believe he is at peace," Makaziwe, the sole surviving child from his first marriage to Evelyn, said.
Asked whether the family should let the former statesman go, Makaziwe said they would not because Mandela had not asked them to.
"In our culture, the Tembu culture ... you never release the person unless the person has told you: 'Please, my children, my family, release me.' My dad hasn't said that to us," she was quoted a saying by the Timelive.com.
Mandela, South Africa's first black president, was admitted to hospital in Pretoria on June 8 for the third time this year, with a recurring lung infection.
The statement on his health came amid a mounting public outcry after it was learnt that the ambulance transporting Mandela to the hospital from his home in Johannesburg in the early hours of June 8 broke down and paramedics had to treat him for almost forty minutes before a second one arrived.
Mandela is revered for leading the fight against white minority rule in South Africa and then preaching reconciliation despite being imprisoned for 27 years. He left power after five years as president.
He is believed to have suffered damage to his lungs while working in a prison quarry. He contracted tuberculosis in the 1980s while being held in jail on the windswept RobbenIsland.
Mandela retired from public life in 2004 and has rarely been seen at official events since.
Outside the hospital, where the walls and pavements are filled with messages of goodwill and flowers, a group of local businessmen released 100 white doves to signify the role Mandela had played in leading South Africa to a peaceful transition from apartheid.
Image: Men read a newspaper next to a stall in Soweto on Tuesday
Photograph: Siphiwe Sibeko/Reuters