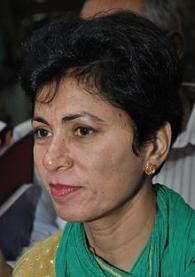 A 42-year-old man was found dead under mysterious circumstances at former Union minister and Congress leader Kumari Selja's Lutyens' zone bungalow in New Delhi on Monday morning, police said.
The deceased identified as Sanjay, was the husband of a domestic help working at Selja's residence. He himself was employed at the Sena Bhavan. The body was found inside the compound of Selja's 7, Motilal Nehru Marg residence around 7:30 am.
Police got a PCR call from someone in Selja's staff around 8 am about the incident following which local police, crime and forensic teams rushed to the spot.
"His body was found in a passage between the main residential building and the garden, away from his servant quarter. He had head injuries and he probably died of excessive bleeding. The body had scratch and bite marks on its neck, hand and back.
"The one-room servant quarter where he lived with his wife and two children also bore marks of struggle and blood stains," said a police official.
Sanjay was alone at the servant quarter on Sunday night. He had taken his wife Manju and two children -- a daughter who is around 18-year-old and son who is around 16 year old -- two his brother-in-laws' place in Laxmi Bai Nagar for Raksha Bandhan, he said.
One Sunita, who was sister-in-law of the deceased claimed that Sanjay got a call from one Jose, said to be a secretary in Selja's office at around 10 pm calling him at the bungalow following which he returned while his family stayed back at their relative's place.
His body was discovered in the morning around 7:30 am by his wife who searched for him when she returned home and found blood stains in their house. He then raised an alarm and police was informed.
"It seems that he died around 2 to 2:30 am as rigor mortis had not set in when we reached the spot after we got a call. There are three servant quarters in the residence. We are questioning the other servants of the house, Sanjay's relatives and officials of Selja's office," the official said.
Selja was allotted this bungalow when she was social justice and empowerment minister in the UPA government. Although she is still a Rajya Sabha MP, she was supposed to vacate the residence and move to another house meant for MPs.
Deceased's relatives also claimed that Sanjay and his family had had an argument over vacating their servant's quarter with somebody in Selja's office.
Although police said that the death was unnatural and they were investigating the case, no FIR was registered in this regard till late evening.
The body was moved to Lady Hardinge hospital for postmortem which will reveal the exact cause and timing of death.
"The death is unnatural, we are investigating the case from all possible angles," said Additional Commissioner of Police (New Delhi) SBS Tyagi.
Image: Congress leader Kumari Selja