West Bengal Chief Minister Mamata Banerjee on Friday called upon regional parties to unite to take on the Bharatiya Janata Party which, she alleged, has unleashed "vendetta politics" against those opposed to it and wanted to take the country to a "dangerous path."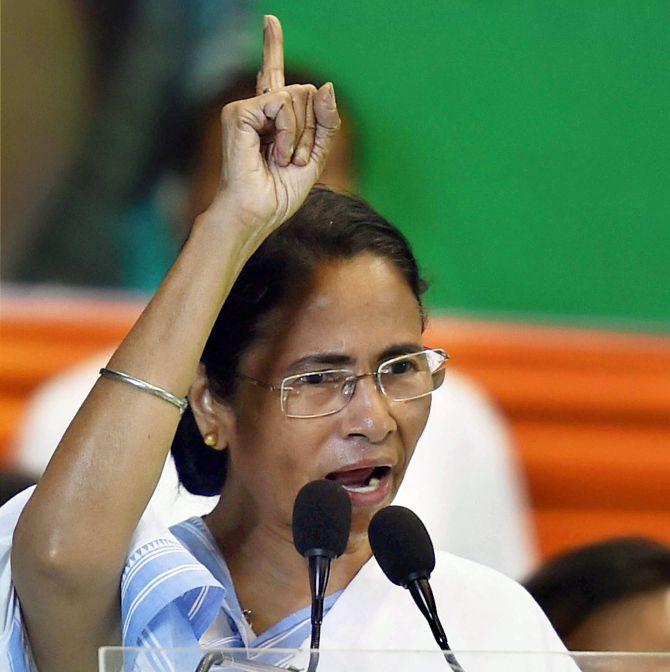 "What is going on in the country in the name of politics is not politics. The situation demands all regional parties to unite," Banerjee told party workers at a meeting in Kolkata shortly after being re-elected as chairperson of Trinamool Congress for six years.
"I do not want anything. I want you all (regional parties) to progress, I am there in your support. I am giving this message to all parties. Be together, be united, my party will stand by all of you," she said.
"The BJP has resorted to vendetta politics. They are out to break the federal structure of the country. The BJP is against our party because we talk about the people.
"They want to finish us by unleashing an agency (CBI) against our leaders but they themselves will be finished. The TMC will strike back," she said asking partymen not to get scared.
With an eye on the 2019 Lok Sabha election, she said, "Whatever the conspiracy is, you have to go to the grassroot level and meet our workers. Take the challenge for two years. We will fight taking along everyone."
In an obvious reference to the CBI filing cases against 12 TMC leaders and ministers, Banerjee said, "We respect the CBI as an institution but it is not that the CBI we know. These days the CBI is like a mouse which has been domesticated".
The TMC leaders against whom the CBI had filed FIRs in the Narada sting operation case were present at the meeting.
Banerjee said that there was no proof against them.
She said that TMC parliamentary party leader Sudip Bandopadhyay was arrested by the CBI because he had spoken against demonetisation.
"He is kept in jail for four months. There is no law in the country," she said.
"One party has spoilt the politics in the country. They are spending crores of rupees. Where is this money coming from," she said.
The BJP, however, dismissed her allegations and claimed that it was actually the TMC which is practising the politics of vendetta.
"Banerjee realised that she has lost (the people's support). That is why she is talking like this. It is not the BJP but the TMC which is playing vindictive politics," party national secretary Rahul Sinha said.
He said that recent Ram Navami processions were taken out by people and not by any political party and alleged that they were stopped by the state administration. "This shows the vindictive attitude of the TMC," he said.
Banerjee asked her partymen to remain alert as cadres of the RSS, BJP and Bajrang Dal were trying to enter the state from outside.
Denying the charge, BJP state president Dilip Ghosh said, "She is allowing terrorist elements from Bangladesh to come to the state".
Banerjee also alleged that people were paid to open fake Facebook accounts using her name and photographs as well as spread rumours to instigate violence.
She also attacked the BJP on the issue of Hindutva saying, "They are out to unleash communal riot. We will not tolerate this. There is a limit to everything".
Photograph: Swapan Mahapatra/PTI Photo