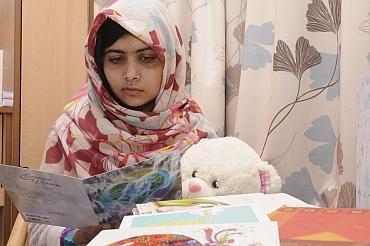 Malala Yousufzai, the teenage Pakistani activist shot in the head by the Taliban for advocating girls' education, has thanked people around the world for their inspiring and humbling support.
A month after she was targeted, Malala's father Ziauddin Yousafzai issued a message of gratitude on her behalf saying she wanted to thank well-wishers for helping her to survive and 'stay strong'.
Malala, 15, is undergoing treatment at the Birmingham's Queen Elizabeth Hospital. Her father, mother and two brothers meet Malala twice a day and have been housed locally.
"She wants me to tell everyone how grateful she is and is amazed that men, women and children from across the world are interested in her well-being," her father said in a statement issued by the University Hospitals Birmingham NHS Foundation Trust.
"We deeply feel the heart-touching good wishes of the people across the world of all castes, colours and creeds." Malala has received thousands of gifts, cards and messages of support since arriving in Birmingham on October 15.
More than 7,000 people have written messages to her on the Hospital's message board, expressing their love and support. Among the gifts are pocket money 'for sweets', the teenager's favourite CDs, school books, clothing, toys and jewellery, while whole classes of pupils have written letters and messages supporting Malala's campaign for girls' education, the hospital said.
Ziauddin said, "I am awfully thankful to all the peace- loving well-wishers who strongly condemn the assassination attempt on Malala, who pray for her health and support the grand cause of peace, education, freedom of thought and freedom of expression."
Friday has been declared Malala Day by former United Kingdom Prime Minister Gordon Brown in his role as United Nations special envoy for Global Education. Brown will be holding meetings with senior Pakistani officials on Friday.
He will deliver a petition containing more than a million signatures to President Asif Ali Zardari, urging him to make education a reality for all Pakistani children, irrespective of gender.
The hospital said, "Malala continues to make satisfactory progress at the Queen Elizabeth Hospital Birmingham. The medical team supervising her care described her condition as comfortable and stable."
The hospital on Friday released photos of Malala sitting and reading a book. On October 9, Pakistani Taliban militants, linked to Al Qaeda, shot Malala in the head in her hometown in northwest Pakistan's Swat valley.
Photograph: Queen Elizabeth Hospital Birmingham/Reuters