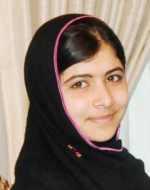 Pakistani teenage rights activist Malala Yousufzai 'remains stable' but would have to undergo reconstruction surgery in the coming days, the hospital and 1doctors attending her said.
"Malala spent a second comfortable night at the hospital and continues to be cared for by Queen Elizabeth and Birmingham Children's Hospital doctors", a statement issued by the Birmingham hospital said. It added that Malala 'remains stable'.


Medical Director of the Queen Elizabeth Hospital, Dav Rosser, said Malala would require reconstructive surgery. He reiterated that that Malala had chance of making a good recovery.
Rosser said on Tuesday night that that the team of specialists from hospitals had been 'impressed with her strength and resilience'.
Messages of support and offers of financial assistance for Malala have been flooding in to the hospital. A message board has been set up on the Trust's website to allow well-wishers to leave their messages of support. The teenager schoolgirl was shot last Tuesday in the head by the Taliban for her campaign supporting girls' education.
Malala was flown to the Queen Elizabeth Hospital in an air ambulance from Pakistan on Monday evening for treatment. Malala has been assessed by clinicians from the neurosurgery, imaging, trauma and therapy departments, though 'very specialist teams' who may become involved further down the line are yet to perform detailed assessments on her injuries.