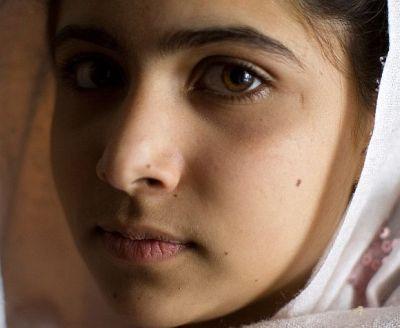 Malala Yousafzai, the Pakistani teenager shot in the head by the Taliban for campaigning for girls' education, has been named as Britain's most influential Asian by a weekly publication in London.
At the 'GG2 (Garavi Gujarat2) Leadership Awards 2013' on Wednesday night, Malala, along Kainat Riaz and Shazia Ramzan, who were shot and wounded by the Taliban in Swat Valley last year, were chosen for the GG2 Hammer Award, for their bravery.
British Deputy Premier Nick Clegg was the chief guest on the occasion where she was ranked Number 1 in the latest edition of 'GG2 Power 101' list.
Though Malala was not present to receive the award, she said in a recorded message: "We must recognise the children's struggle for their right and help children who are victims of child trafficking. No terrorist threats can deter us and we will carry on with our campaign for the right to education for girls."
The publication noted: "Malala, who was unknown over a year ago, has become synonymous with a type of girl power that should be celebrated and applauded everywhere. Today, presidents, prime ministers, people of influence and power listen to this remarkable 16-year-old.
"The GG2 Hammer Award winner of 2013 transcends every boundary and appeals to the very core of our humanity." Labour Member of Parliament Keith Vaz, chairman of the home affairs committee, who headed the power list last year, has been ranked as Number 2.
Once Britain's richest man, steel tycoon Lakshmi Mittal has slipped "almost unnoticed into the ranks of the country's mere billionaires", the list noted, putting him on Number 3.
Noting that Mittal remains one of the most successful businessmen of his generation, the publication said "the last few years have been increasingly tough, as the demand for steel has fallen and so too has Mittal's financial and political clout, but only because the market has challenged him."
The Hinduja brothers, Srichand, Gopichand, Ashok and Prakash, are listed at Number four in the Power 101. "When it comes to exercising power and influence the Hindujas are remarkably strong because they have remained united," the publication said.
Lord Swraj Paul, with son Angad, have been ranked at Number 21 on the list. "At 82, Lord Swraj Paul is the grand old man of the Indian community whose voice commands wide respect both in Britain and India.
"Part of his influence derives from the fact that his is one of the few family owned businesses in Britain that has done its best to keep manufacturing alive in Britain. He remains the chairman and father figure in the Caparo automotive and engineering group that now has plants in Britain, America, India and Poland," the publication said.
"It is wonderful to see something I started by borrowing 5,000 in 1968 has flourished into a situation where we employ more than 10,000 worldwide and we are a completely family-owned company," Lord Paul was quoted as saying.
In a message Cameron said, "there is little doubt that Britain today is a far more diverse and tolerant society than it was a generation ago. The many and various communities that make up our country energise our businesses and immeasurably enrich our cultural and social life.
Ramniklal Solanki, editor-in-chief of GG2 Leadership Awards 2013 said: "We are looking to recognise the best in everyone and tell people that wherever they are and whatever they are doing, it is possible to reach the heights they aspire to."
Other prominent persons figuring in list include Shailesh Vara, MP, Parliamentary under secretary of state, minister for the courts and legal aid (No. 11), Sayeeda Warsi, senior minister of state at the foreign office and minister of faith and communities (No. 12) and economist Amartya Sen (No. 15).
It also includes Priti Patel, who British Prime Minister David Cameron announced would be the 'Diaspora Champion', bringing Britain and India ever closer together (No. 16), Navnit Dholakia, deputy leader of the Liberal Democrats in the House of Lords (No. 19) and sculptor Anish Kapoor (No. 26).