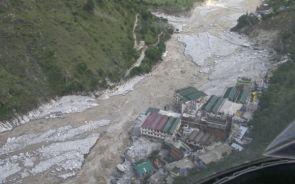 Six people were killed in rain-related incidents in Uttar Pradesh where major rivers flowed above the red mark today as showers drenched several parts of the state.
Two persons each perished in Sitapur and Lakhimpur and one each in Sultanpur and Barabanki since Sunday evening, officials said.
So far, 63 people have been killed in the state in rain-related incidents, Relief Commissioner Venkateshwarlu told reporters.
There was no flood threat in the state though major rivers were swollen, he said.
River Ganga was maintaining an upward trend from Fatehgarh to Kanpur, Sharda was flowing above the red mark at Palia Kalan and Rapti was rising from Balrampur to Gorakhpur, the Central Water Commission said.
Rivers Burhi Rapti and Quano had crossed the danger mark and were rising at Siddhartnagar and Gonda respectively, it said.
The south-west monsoon had been active in eastern UP which received moderate to heavy rains at many places, the Met office said.
Isolated showers also occurred in western part of the state overnight, it said.
Allahabad received 161 mm of rains, Bijnore 113 mm and Barabanki 84.4 mm, the weather office said.