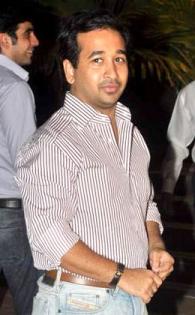 Maharashtra Minister and Congress leader Narayan Rane's son Nitesh was arrested on Tuesday along with eight others by the Goa police for allegedly vandalising a tollbooth near Panaji and attacking its staffers.
The incident took place on the Maharashtra-Goa border and created tension in the area. Nitesh and the others, all his supporters, were booked for alleged rioting, damaging public property and assaulting public servants, police sources said.
A Goa-bound group, led by Nitesh and travelling in a convoy of private cars, refused to pay toll fee at the plaza in Pernem village, they said. A toll fee is charged from all non-Goa registered vehicles when they enter from the neighbouring states.
The group members created a ruckus and damaged the toll collection centre. They allegedly assaulted three workers employed by the Goa public works department to man the tollbooth, the sources said.
The police swung into action and arrested Nitesh, who runs a non-government body Swabhimaan Sanghatana, and eight of his supporters.
Soon after the incident, a large number of Nitesh supporters gathered outside the Pernem police station. Tension prevailed for sometime but normalcy was later restored, they said.
Narayan Rane, a Shiv Sainik-turned-Congressman, wields considerable influence in Maharashtra's Konkan region, which borders Goa.
Rane, a former chief minister, currently holds the industry portfolio in the Prithviraj Chavan cabinet.
Nitesh had hit the headlines in August this year when he launched a broadside against Gujaratis living in Mumbai for praising Chief Minister Narendra Modi and his development model.