Chief Election Commissioner James Michael Lyngdoh has won the prestigious Ramon Magsaysay Award for 2003 for his "convincing validation of free and fair elections as the foundation and best hope of secular democracy in strife-torn India."
Shantha Sinha, an Andhra Pradesh based anti-child labour activist, is the other Indian the Ramon Magsaysay Award Foundation chose to honour.
The awards were announced on Wednesday afternoon in Manila, Philippines.
A total of seven individuals from India, China, Japan, the Philippines and East Timor have been selected for the prestigious Asian equivalent of Nobel prizes.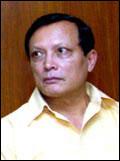 Lyngdoh was honoured for excellence in Government Service and Sinha for Community Leadership.
The CEC has had several standoffs with political parties, the government and others in his bid to ensure peaceful, free and fair elections.
Sinha was selected for "guiding the people of Andhra Pradesh to end the scourge of child labour and send all of their children to school," the foundation said.
The award is named after a former Philippine president and is given in six categories: Government Service, Public Service, Community Leadership, Emerging Leadership, Peace and International Understanding, and Journalism, Literature, and Creative Communication Arts.
The other winners are:
Dr Gao Yaojie: A retired gynecologist turned AIDS activist from China, for public service. Dr Gao was selected for "her fervent personal crusade to confront the AIDS crisis in China and to address it humanely."
Sheila Coronel: Executive Director of the Philippine Center for Investigative Journalism (PCIJ), for Journalism, Literature, and Creative Communication Arts. She was selected for "leading a groundbreaking collaborative effort to develop investigative journalism as a critical component of democratic discourse in the Philippines."
Dr Tetsu Nakamura: A Japanese who is spearheading volunteer health service programs in Afghanistan and Pakistan has been selected for his efforts towards peace and international understanding. The honour acknowledges Dr Nakamura's "passionate commitment to ease the pains of war, disease and calamity among refugees and the mountain poor of the Afghanistan-Pakistan borderlands."
Seiei Toyama: A soil agriculturist and environmentalist greening the deserts of Inner Mongolia in China. He is a Japanese citizen. He was honoured for his efforts towards peace and international understanding. Toyama was selected for "his twenty-year crusade to green the deserts of China in a spirit of solidarity and peace."
Aniceto Guterres Lopes: Chairperson of the Commission for Reception, Truth and Reconciliation in East Timor. Lopes was selected, in the Emerging Leadership category, for "his courageous stand for justice and the rule of law during East Timor's turbulent passage to nationhood."
"This year's winners continue this tradition of greatness of spirit in selfless service to the people. Their sense of leadership, unwavering commitment and quiet compassion towards their fellowmen are making a real difference towards transforming Asia for the better," said a statement from the foundation president Carmencita T Abella.
"Amidst great divisions, inequity and seeming hopelessness, these remarkable women and men work quietly and persistently to address longstanding, painful social issues. Without fear or fanfare, they bring to the world inspiring news of courage, healing, justice, generosity, solidarity, reconciliation and hope," the president said.
The awards would be presented on August 31, 2003 at the Cultural Center of the Philippines.