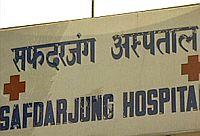 Even as the Delhi gang-rape victim's condition deteriorated, she has shown immense determination to fight the battle for life.

According to television reports, in a written communication to her mother, the girl has said: "Maa, main jeena chahti hoon (Mother, I want to live)".
Several politicians have been visiting the girl at Safdarjung Hospital where she was admitted after the brutal assault in a moving bus on Sunday night.

On Tuesday night, Congress president Sonia Gandhi also visited the hospital to meet the rape victim.

Her condition, which had improved on Tuesday morning after she was operated upon on Sunday night, deteriorated later in the evening.

Doctors are battling to keep infections at bay as the injuries are extensive.

Her platelet count had dropped, with blood pressure being unstable.
The next 24 hours are critical. If she pulls through, her chances of survival will improve.
Specialists from the AIIMS trauma centre have been called in before doctors decide whether the girl needs to be operated upon further.

They hope to curb further spread of infection.

Also See:

Rapes happen in India, because we are a callous nation
What needs to be done to make Delhi a safer city
'This was not rape, it was murder'