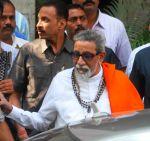 While top politicians shirked from making any comment on Bal Thackeray stature, a leading Islamic cleric did not hesitate to praise the Shiv Sena supremo for carving out an unparalleled stature for himself.
Condoling Thackeray demise, Lucknow's Naib Imam Maulana Khalid Rasheed, who also heads the city's oldest Islamic seminary, 'Firangi Mahal' said, "the stature of Balasaheb Thackeray was such that no one could ignore him in Indian politics."
"Thackeray remained an icon for his party, where his word was law," but hastened to add, "However, there was a vast majority in the country that did not agree with his brand of politics, which they considered divisive. Had it not been like that, his influence would have spread across the country," said Rasheed.  
Without uttering a word about the personality or stature of Thackeray, Samajwadi Party president Mulayam Singh Yadav chose to mourn the death of the Shiv Sena leader. "I pray to the almighty to rest Balasaheb Thackeray's soul in peace and to give his family the strength to bear the loss," observed Mulayam.
Congress state president Nirmal Khattri also chose to express his condolence over the leader's demise. 
However, it was senior Bharatiya Janata Party leaders who made it a point to hail Thackeray for all that he did to promote Hindutva. State BJP chief Laxmi Shankar Bajpai said in a statement, "Balasaheb's death has left a void that would not be easy to fill. He was a torchbearer of Indian nationalism and Hindutva."
Former chief minister and onetime BJP strongman Kalyan Singh, who is currently trying to stage a comeback into the party termed, Thackeray's demise as the "end of an era."
Bahujan Samaj Party spokesman Swami Prasad Maurya was not available for comment, but the party refrained from even issuing a condolence message on the Shiv Sena chief's demise.