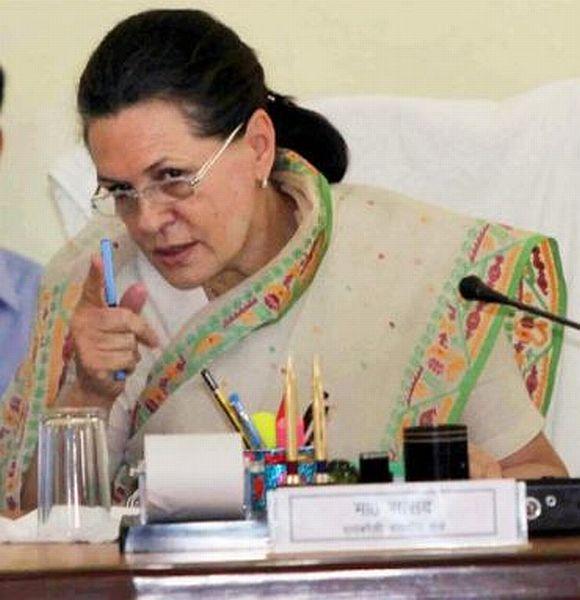 In a virulent attack on BJP, Congress President Sonia Gandhi on Saturday said the Lok Sabha polls are vital to safeguard cherished national ideals like "unity and secularism" which were under threat.
"This year is the most important election because it's about what kind of India you want. Idea of India is under threat by those who don't just seek to rule but to change India's very heart and soul," Gandhi said addressing a special convention of the Congress workers from across Kerala.
"The choice is between India of all or India of some serving the interest of few. We want unity, they want uniformity. Our idea joins India together, their's divides," she said.
"Our principal opposition will argue that after ten years of the United Progressive Alliance rule, it is time to change. I want to ask a change to what? Do the people of India really want to give up the long-cherished values for lies and untested promises," she said.
Calling upon the workers to toil hard for victory of the party, Gandhi said "you have a choice to build India of 21st century or an India confined to prisons of an ideology."
Launching the poll campaign of the United Democratic Front it heads in Kerala, Gandhi also had some sharp comments against the Communist Party of India-Marxist led Left Democratic Front.
In Kerala, the choice will be between a party that stands for 21st century and one whose ideology is irrelevant, she said.She also berated the CPI-M, though without naming it, as a party that does not believe in non-violence. This, she said, was in contrast to the Congress, which had always stood for consensus and dialogue without deviating from its basic principle of non-violence.
Chief Minister Oommen Chandy and newly-appointed Keral;a Pradesh Congress Committee president V M Sudheeran were among the leaders who addressed the convention attended by functionaries from the booth level upwards.