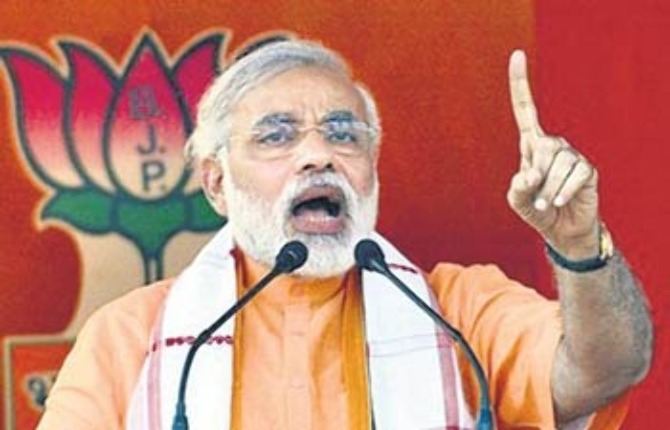 Raking up the caste issue, Narendra Modi on Friday charged the Congress and its president Sonia Gandhi of starting the politics of untouchability and hatred and resorting to 'unch aur neech' politics to salvage the lost political ground in the ongoing elections.
"Who started the politics of untouchability in the country?" he asked the people at an election meeting in favour of Bharatiya Janata Party candidate Radhamohan Singh. "The same people who do votebank politics had started the politics of untouchability," he said referring to the Congress.
Complete Coverage: Elections 2014
"During the entire election process, we have never wavered from development-based politics," the BJP prime ministerial candidate said charging the Congress president with resorting to unch aur neech (high and low) politics. "Madam you are a party president. You keep using terms like unch and neech, it does not look good," he said, adding the Congress was trying to salvage lost political ground. "A certain defeat in the elections appears to be troubling Madam Soniaji and she is upset that the Congress' game of caste and communal politics is coming to an end now," Modi claimed.
Addressing a large number of youth in the audience, the BJP prime minister nominee spoke about the alleged fraud played by the United Progressive Alliance government on promise of giving employment to youths and talked about number of new measures to create jobs. "Do you want to ruin your future as well like 60 years of your parents were ruined. This government of mother and son has ruined the country. They have promised to provide employment to 10 crore people in five years between 2009 and 2014. Did the youths get jobs? Did they not play fraud with you? Will you allow these people to come to power, who have cheated you? Modi said.