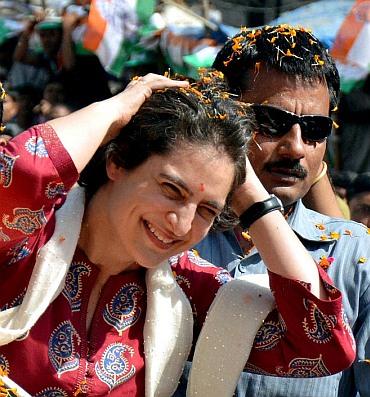 Priyanka Gandhi on Thursday broke away from her SPG security cordon and went ahead for campaigning in Tiloi in Amethi district without security cover of the elite protection agency.
When the Congress star campaigner reached Gandhinagar near Gauriganj, she came down from her SUV and stopped SPG personnel from following her and moved to Tiloi for campaigning, Superintendent of Police Hiralal said.
Complete Coverage: Lok Sabha Election 2014

However, Uttar Pradesh Police personnel accompanied her.

She was scheduled to address a meeting at Shahmau near Kasimpur but she changed her route.
Local Congress sources said that Priyanka was apparently upset with the attitude of SPG personnel towards her interaction with people.
When asked about the incident, Uttar Pradesh Principal Secretary, Home, Anil Kumar Gupta said, "It was a matter of concern and SPG headquarters would be informed about the incident".

"We are apprising them (SPG officials) of the incident", he said.
Complete Coverage: Lok Sabha Election 2014