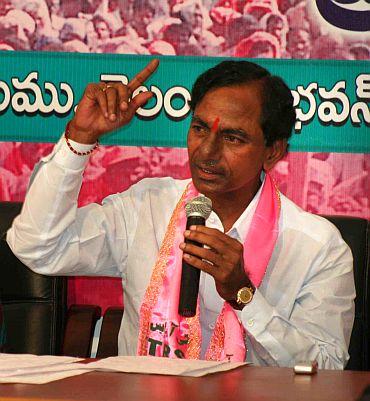 Announcing that it would not strike an alliance in the upcoming state and Lok Sabha elections, the Telangana Rashtra Samithi on Friday released its first list of candidates for 69 of the 119 assembly seats in Telangana region along with its poll manifesto.
"Right from day one, we have been saying that we will not have alliances with anyone in these elections. The wish of Telangana people is that we contest alone. Accordingly, we are going alone," TRS president K Chandrasekhar Rao told mediapersons in Hyderabad.
Rao would contest from the Gajwel assembly constituency in his native Medak district, while son and sitting Member of Legislative Assembly K T Rama Rao would fight again from Sircilla assembly seat in Karimnagar district of Andhra Pradesh.
All the sitting MLAs of the TRS have been retained from the constituencies which are being presently held by them. The candidates for the remaining assembly seats and the Lok Sabha constituencies would be announced soon, he said.