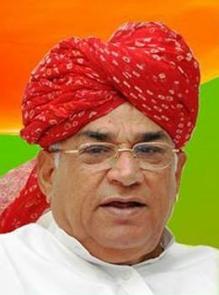 Food, water, health-care, schools and roads are issues that most politicians speak about during their election campaigns. However, Bharatiya Janata Party's Barmer candidate Colonel Sonaram Choudhary has left the state government and party red-faced by raising the issue of providing the locals with easy access to doda posta (opium husk).
During a recent election meeting in Barmer, Choudhary asked the Rajasthan Chief Minister Vasundhara Raje to ensure that the people be provided with easy supply of doda posta.
Doda posta is a waste product of poppy harvest and is used by people of the area, mostly to cure rheumatic pains.
Col Chaudhary said, "It may be improper to demand doda posta at a political forum, but it is the need of the people and the demand is far more than the supply."
According to statistics, there are only 2,817 permit holders, who are allowed to purchase opium husk from 22 licensed shops in Barmer. But, illegally the commodity is sold in premium. Every addict is allowed to purchase according to the quota allocated to them by medical experts. The quota ranges from 1 kg to 10
kg per person.
Figures reveal that around 17,737 kg of it is consumed in Barmer on a monthly basis. But, during elections, the demand increases and it is then smuggled. Often, candidates buy the doda posta in bulk, paying up to Rs 1,000 for a kg, whereas the official price is pegged at Rs 500.
The addiction is driven by local customs and marriage ceremonies where baratis (guests) are offered an opium drink. Opium is also served in a social function called riyan, which is mainly conducted to forge a bond of friendship between two people.
Interestingly, a few years ago, now BJP rebel Jaswant Singh was in the eye of the storm for offering guests amal (opium) during a ceremony at his village Jasol in Barmer.
When asked about why doda posta was considered so important, Hetram Bishnoi of Luni village, near Jodhpur, said, "It is a part of a ritual and it's very expensive. But, if you do not offer opium, you will not win. All the parties and candidates earmark the amount he has to spend in providing opium to the people."