Jaswant Singh may have fallen to political designs within his party. But his lack of connect with his voters is bound to make the Barmer contest tougher for him to win. P B Chandra reports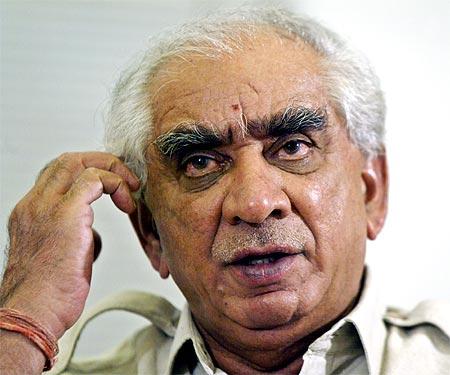 Jaswant Singh has set the Thar desert on fire.

'Wounded' by the Bharatiya Janata Party's move to ignore him and choose ex-Congressman Colonel Sonaram Choudhary for the Barmer Lok Sabha contest, the former soldier has been trained his guns on the saffron ranks.

Jaswant has been claiming that he played an important role in Rajnath Singh's elevation to the post of party president. He has also been claiming to be instrumental in Vasundhara Raje becoming Rajasthan chief minister.

Ironically, it was Vasundhara's mother late Vijayaraje Scindia who brought Jaswant into politics in the 1960s.
Right from the start, the senior BJP leadership, including Atal Bihari Vajpayee and L K Advani, took a liking to Jaswant for he deliberated in English with authority, something not many in the party could do.

Thriving on the goodwill, the party sent him to Parliament on nine different occasions -- five terms in the Rajya Sabha, and another four in the Lok Sabha.

Back in his own state Jaswant received the patronage of the patriarch Bhairon Singh Shekhawat, Both belonged to the Rajput community. Besides, Jaswant also served as the bridge between Vajpayee and Shekhawat.

But rebellion arose against Shekhawat during his term as chief minister, Jaswant's name was being taken as the front-runner to replace the former. Since then, Shekhawat distanced himself from Jaswant.
Jaswant's fortunes started tumbling in August 2009, when his book Jinnah: India-Partition-Independence was released. The BJP, coincidentally led by Rajnath Singh then, expelled him for praising the founder of Pakistan.
As senior leaders like Vajpayee moved away from mainstream politics, Jaswant started realising that his clout was waning.

Known for his trademark shoulder-flapped shirts and his rich baritone voice, the expulsion did not deter Jaswant from taking the support of the Gorkha Janmukti Morcha that fielded him from Darjeeling for the 2009 Lok Sabha elections. A rank-outsider, Jaswant proved his mettle by winning the seat.

Ten months into his expulsion, he was re-inducted into the party in a move reportedly orchestrated by Advani. But Jaswant's woes were far from over back home.

Vasundhara had reportedly been feeling jittery since Jaswant's return to the party. Jaswant's son, Manvendra had in 2004 defeated BJP's current candidate Col Sonaram from Barmer by a big margin.

Vasundhara was also keen to position her own son, second-time MP from Jhalawar Dushyant Singh, in the higher echelon of the BJP. This would not have happened with Jaswant around. So it is alleged that the Rajasthan chief minister maneuvered Rajnath to keep the former out of fray.

So now Jaswant finds himself waging a lonely battle.

Though Barmer has a good Rajput presence, the constituency is Jat-dominated.

Jaswant -- confronted by two Jats opponents, Col Sonaram and the sitting Congress MP Harish Choudhry -- is hoping for a split in the community's votes (total 3.5 lakh).

Besides depending on the Rajput votes, Jaswant is eager to rope in the Muslims (2.5 lakh votes).

Interestingly, Jaswant has a strong clout among the Muslims.

But his lack of connect may spoil his chances. Both Rajnath and Vasundhara have worked this weakness to their advantage.