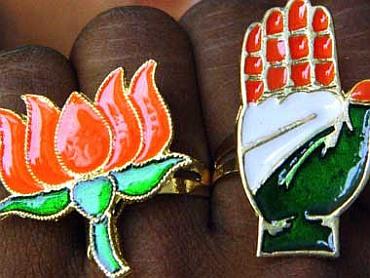 From 'Self Reliance' to Jai Jawan, Jai Kisan in early years, Indian election sloganeering has come a long way with major political parties now chanting Abki Baar Modi Sarkaar and Main Nahi Hum.
While Congress is focusing on its commitment to the aam aadmi through its slogans, its arch rival BJP has built its campaign around its prime ministerial candidate Narendra Modi for the 16th Lok Sabha elections.
These two main contenders have followed similar approaches in past elections also with BJP slogan's focusing on their Prime Ministerial candidates beginning with Atal Bihari Vajpayee to L K Advani to Narendra Modi and Congress continuing with its aam aadmi mantras.
It may be 'Modi for PM', Ab ki baar Modi sarkaar and other Modi-centric slogans this year but they are reminiscent of the slogans used by the party in 1996 when it came to power -- Abki baari Atal Bihari', projecting Vajpayee as its prime minister.
Interestingly, another famous slogan launched by Modi last year was Congress mukt Bharat, in an effort to make gains of the anti-incumbency wave in the country.
The Congress on the other hand has stayed away from dragging BJP's name in their slogans and rather has tried to highlight its own 'achievements'.
While, the parties have coined new punch-lines with each passing election, there have been controversies around these slogans also.
Congress' Main nahi Hum, seems like an attempt to support its attack that Modi has hijacked BJP and that there is no democracy in the party. But the slogan got into controversy as BJP claimed that it was used by them in 2010 and accused the Congress of plagiarism.
Recently, BJP had to face backlash because of the Har har Modi, har ghar Modi slogan. The party had denied coining the slogan and Modi had himself asked his supporters not to use it. Many political leaders and even Dwarka Peeth Sankaracharya
Swaroopanand Saraswati criticised BJP for chanting a candidate's name as if worshiping God.
The Har har Modi, har ghar Modi slogan ironically threw us back to the 'Indira is India and India is Indira' coined by former Union Minister Devkanta Baruah who was called a sycophant by the opposition. The slogan clearly did not work for the Congress as the party made way for the Janata Party led by Jayaprakash Narayan.
Some of the well-thought punch-lines that have been used effectively by main political parties over the years include 'Self Reliance' (1951), Jai jawan, jai kisan (1965), Garibi hatao (1971), Indira Hatao, Desh Bachao (1971), Sampoorna
Kranti (1977), Ek Sherni, Sau Langur, Chikmaglur bhai Chikmaglur' (1978), Jab Tak Suraj Chand Rahega, Indira Tera Naam Rahega (1984), and Loh purush (2009).
The Congress has time and again used slogans which appeal to the lower middle strata of the society. Whether it was Aam Aadmi ke badte kadam, Har kadam par Bharat buland used in 2009 or Congress ka haath, Aam aadmi ke saath, the party has traditionally promoted its achievements, especially schemes for the poor.
The term 'Aam Admi' was prominently used over the years. However, they have abandoned it this time after Aam Aadmi Party (AAP) made a venture in national politics.
There are other occasions when the slogans have failed to leave a mark. The BJP's 'India Shining' (2004) was one of the biggest failures as the opposition accused the party of not being in touch with the ground reality.
The Congress retaliated this with a much thought out rhetoric: Aam aadmi ko kya mila (what did the common man get?).
Meanwhile, AAP which had pulled all stops in campaigning for Delhi polls in December was not so visible when it comes to sloganeering. Their slogans Main hoon aam aadmi, mujhe chahiye swaraj, Is baar chalegi jhadoo and Abhi toh Sheila
hari hai, ab Modi ki baari hai are not much heard or seen when compared to the two political giants.
Similarly, other parties such as Bahujan Samaj Party, Samajwadi Party and Trinamool Congress have stuck to their old slogans and not framing new punchlines.
Whether it is Trinamool's Maa Maati Maanush (Mother, motherland and people) or Bahujan Samaj Party's, Chalega haathi udegi dhool, na rahega haath, na rahega phool, the parties are staying put with the slogans used in the previous elections.

However, some of the slogans used earlier which catapulted parties into prominence hold less water in the present scenario.
Lok Janshakti Party's Upar aasmaan, neeche Paswan has little significance in this charged political atmosphere. Only if Paswan succeeds in bringing votes for the BJP, can we hear the rallying cries again.

The trend of sloganeering has seen changes over the years. Thanks to more-than-ever active social media and the 24/7 news coverage, the 2014 election has seen new slogans brought out daily by one party or the other.

Thus, in a bid to counter their opponent's campaign and make themselves more visible, at times the leaders even hit below the belt with their slogans.