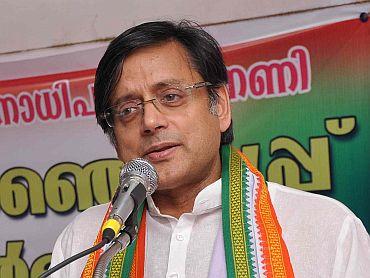 After tweeting about Bharatiya Janata Party prime ministerial candidate Narendra Modi's refusal to wear a skullcap, Congress leader and Union Minister Shashi Tharoor said that it showed his bigotry. He said the BJP leader had been seen wearing different kinds of headgear, some even 'outlandish', "but the skullcap is one headgear he rejects and it is to send a signal of bigotry and rejection of our Muslim brothers and sisters".
He also took another potshot at Modi over his meeting film stars. He said that it proved that there was no Modi wave and that he was only cashing in on the popularity of actors.
"There is not even a Modi ripple. If there is a Modi wave would he need all these people to surround himself with? You don't see Sonia Gandhi trying to stand next to Salman Khan. We know what we stand for," said Tharoor.
Referring to Modi calling on superstar Rajnikanth and meeting popular actor Vijay in the past few days, he charged that the Gujarat chief minister was trying to profit from the popularity of prominent men to further his prime ministerial ambition.
He described the BJP-led six-party alliance in Tamil Nadu as an opportunist combine and claimed it would not last beyond elections, saying the partners had little in common.
Criticising pollsters for projecting big gains for BJP, he alleged they had done a conscious under-counting of Congress support. "They tend to miss out classical Congress voters like vegetable sellers."