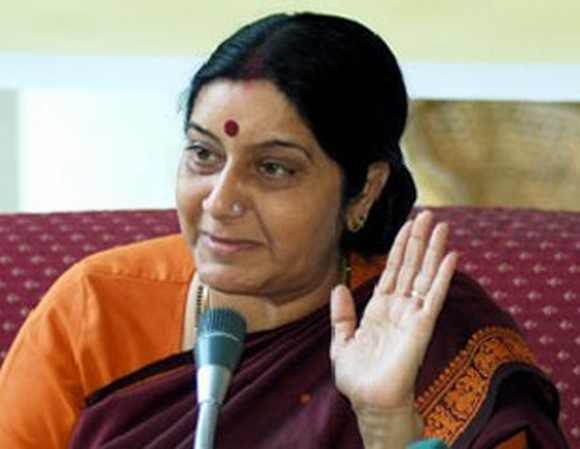 Sitting Bharatiya Janata Party Member of Parliament Sushma Swaraj on Friday filed her nomination papers from Vidisha and expressed confidence about increasing her victory margin. The Vidisha MP assured people to strive for all-round development of the constituency -- located about 50km from Bhopal -- which was once represented by former Prime Minister Atal Bihari Vajpayee.
Accompanied by Madhya Pradesh Chief Minister Shivraj Singh Chouhan and his wife Sadhna, Swaraj submitted her papers to the Raisen district electoral officer. Later, addressing party workers, the Leader of Opposition in the outgoing Lok Sabha said in 2009, she won by a margin of 3.90 lakh votes and hoped this time the margin will exceed four lakhs.
Referring to delay in extension of rail services in the region, she said, "I know people are restless on the issue of rail services and setting up of a medical college in the constituency. People must understand that United Progressive Alliance government changed the Railway Minister six times in five years."
The BJP heavyweight said when she was the Union health minister, foundation stone was laid for setting up All-India Institute of Medical Sciences in Bhopal. But from 2004 to 2009, not a single brick was placed.
"However, because of my pressure the construction work started and today the AIIMS has come up in Bhopal." Swaraj said things will change for better under a BJP-led government at the Centre and vowed to work for betterment of people in her constituency.
Speaking on the occasion, Chouhan said Vidisha is a distinct constituency and Swaraj will play an important role at the Centre after winning from this seat. Rejecting Congress President Sonia Gandhi's charge that land mafia was ruling the roost in the BJP-governed state, Chouhan raked up the issue of controversial land deals involving her son-in-law Robert Vadra.