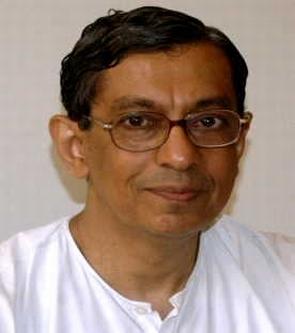 'These letters are part of my communication with the students to encourage them to vote and to introduce them to academic discussions on what good governance and development is all about'
Dr Fraser Mascarenhas, principal of Mumbai's St Xavier's College, remains unmoved even as the Bharatiya Janata Party complains to the Election Commission over his email on the Gujarat model. Prasanna D Zore reports from Mumbai
Principal of Mumbai's St Xavier's College, Dr Fraser Mascarenhas found himself in the middle of a controversy over his email to students that talks about the Narendra Modi's Gujarat model of governance and economic development.
Dr Mascarenhas, stood by his email even as the Bharatiya Janata Party complained to the Election Commmission about it.
Speaking to rediff.com Dr Mascarenhas said that there was no reason to suspect the timing of the email he sent out to his students and he had criticised all political parties in that letter.

Read: What St Xavier's principal said about the Gujarat model
"These letters are part of my communication with the students to encourage them to vote and to introduce them to academic discussions on what good governance and development is all about. I have talked about two types of developments and I have asked them to reflect on what they think is important for our country," he said.
The email, available also uploaded on St Xavier's College website said, "Gujarat may be doing well in the first sense, although not as good as some other states in the country. But all the Human Development Index indicators and the cultural polarisation of the population show that Gujarat has had a terrible experience in the last 10 years."
"The Gujarat model is the model that is being talked about left, right and centre for these elections," Dr Mascarenhas said in response to why he chose to highlight the drawbacks of the Gujarat government in his email to his students.
"I have used that as an example to illustrate both these models of development: the one stressing on economic development and the other stressing on human development," he added.
Dr Mascarenhas has said that he has yet to receive any notice from the EC for breach of the model code of conduct. "Unless the Election Commission approaches me what do I have to do?" he asked.
This letter, however, has drawn lot of flak from the BJP, which has accused the college principal of influencing the voters to vote for the Congress.
Acknowledging the complaint, Shaina NC, Maharashtra BJP treasurer, said, "The principal of a college cannot misuse his powers to influence his students and suggest they should vote for the United Progressive Alliance. What is this platform (email) saying? That the BJP is bad and the Congress is good."
Shaina NC further lashed out at the principal. "He should join active politics and then engage with his students with such emails that talk of supporting the UPA."
"He has said in his letter that the Gujarat model (of development and governance) is not a model to follow. If he is so opinionated ask him to join politics and then write such letters," Shaina NC added.
"As a principal of a college he doesn't have the right to violate the model code of conduct."
She also alleged that the timing of Dr Mascarenhas's letter was very suspect and he should not have engaged in writing a mail that is full of political overtones.
"If he had to initiate such debates among his students why right now? Why do this when the elections are in progress?" Shaina NC asked.
Image: St Xavier's College principal Dr Fraser Mascarenhas

Special Coverage: Election 2014