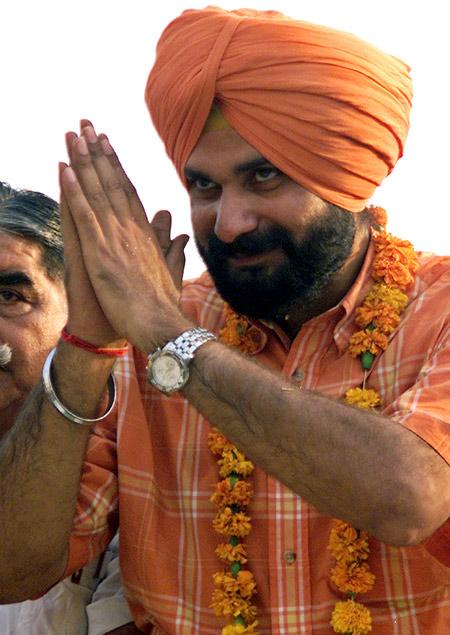 Congress' Amarinder Singh on Wednesday said that Navjot Singh Sidhu would have been a tougher contestant from Amritsar than Bharatiya Janata Party leader Arun Jaitley whom he dismissed as a "nominal candidate".
"Let me also tell now that all is over....Had he (Sidhu) been there, I would have had a difficult fight. At the moment there is no fight. Arun Jaitley is no candidate. He may be the nominal candidate but my fight is with the Akalis on the ground," he told reporters in Amritsar.
He was responding to a question whether Sidhu not being in the fray might have benefited him in the elections.

Special Coverage: Election 2014
"Have you ever heard me talk much about Jaitley...Its always about (Bikram Singh) Majithia and Badals and all that....So that fight remains there with Jaitley as a figure head," said the Congress candidate from Amritsar where polling was taking place on Wednesday.
Singh, a former Punjab chief minister, "To some extent it will benefit because the BJP is divided. Half of the BJP likes Navjot Singh Sidhu and thinks very well of him and naturally I think they are upset that he is not there."
Meanwhile, Jaitley, the BJP nominee from Amritsar, offered prayers at the Golden Temple and later told reporters, "I have often come here and today is a special day. That is why taking blessings here is in accordance with our traditions. My messege to the people is that they should come out and vote."
Shiromani Akali Dal leader Sukhbir Singh Badal maintained that Punjab is not facing any anti-incumbency and said that he expected "amazing results".
"From Punjab, we are voting for the national elections and not for the state elections. Anti-incumbency was a factor when you all thought in the last elections (2012). You will see amazing results this time. There are just 16 days to go," he said.
Replying to a question on the drug menace, he said that the highest recovery of drugs and the maximum number of drug pushers who were arrested in the whole country were in Punjab.
"These are records according to the home ministry of the Government of India. We are the only state, which has declared a war on drugs....We are the only state which has recovered the maximum (amount of drugs)," he said
"We are facing drug entry from Pakistan. Basically it's the inefficiency of Government of India to block or seal the border. Borders are under the control of the Government of India and the Punjab Police can't even get into 20 kms from the border," Badal said.
He said BJP's prime ministerial candidate Narendra Modi has promised that if elected he will seal the border so perfectly that not even a bird can fly inside. He maintained that the combination of Modi and Badals was the best for Punjab.
Meanwhile, Congress Lok Sabha candidate from Bathinda seat Manpreet Singh Badal said, "The drug mafia of Punjab must be defeated...I hope people of Punjab would use their intelligence and vote accordingly."
He said, "The maximum number of people should cast their vote today...Time has come to push them (SAD government) out, teaching them a lesson."

Image: BJP's Navjot Singh Sindu was asked to step aside and Arun Jaitley was fielded from the constituency