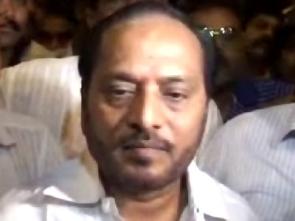 Under fire over the "anti-Muslim" remarks by its leader Ramdas Kadam at the National Democratic Alliance rally in Mumbai ahead of the Bharatiya Janata Party's Prime Minister nominee Narendra Modi's address, the Shiv Sena on Tuesday said those were personal views of Kadam and did not reflect the party position.
"The statements made by Shri Ramdas Kadam do not echo the sentiments of Shri Balasaheb Thackeray, Uddhav-ji Thackeray and the Shiv Sena party. It is his personal view. The party's stand on Hindutva is clear, and voiced by Uddhav-ji time and again," a Sena spokesperson said.
Special Coverage: Election 2014
Senior BJP leader Gopinath Munde also sought to downplay the remarks, saying, "What Kadam meant was that action would be taken against Pakistanis and Bangladeshis illegally staying in Mumbai and who are enrolled as voters."
Kadam, who was speaking when Modi reached the stage at the rally heldin Mumbai on Monday, said, "These Muslims riot against the police and burnt their vehicles. They vandalised the statues of our martyrs. These Muslims molest our women policemen...I am sure that Narendra Modi will ensure that such acts do not go unpunished."
Kadam's comments were in reference to the Azad Maidan riots in Mumbai in 2012.
Kadam then went on to target Pakistan, saying, "Remember the days of 1993 blasts in Mumbai. Life of many Hindus was saved because of late Shiv Sena supremo Balasaheb Thackeray and Shiv Sena. Now, if Modi comes to power, he will destroy the Pakistan in six months."
Image: Shiv Sena leader Ramdas Kadam