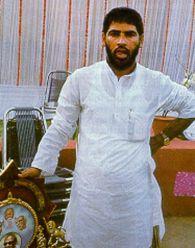 Former Bihar chief minister Rabri Devi on Wednesday said there was no brother or sister but only rivals in a poll battle. He comments come in the wake of Sadhu Yadav, a controversial former MP, announced that he will contest the Lok Sabha polls as an independent from the Saran seat.
The BJP on Wednesday rubbished propping him up for political gains.
"We do not bother who is fighting from where," Prasad told reporters when asked about Sadhu Yadav candidature.
"There will be no trace of such elements in poll at Saran. Nobody will ask about them," he said.
Rabri Devi also expressed anger against her brother Sadhu Yadav saying there could be no compromise with "dushman" (enemy).
"Dushman ko nahi manayege (we will not appease enemy)...people of Saran will teach him a lesson," she told reporters in course of campaign in Saran.
Tej Pratap poohpoohed the challenge posed to his mother from his maternal uncle.
"He is doing this for cheap publicity...he will come last in the election at Saran," Tej Pratap, who is accompanying his mother told reporters.
Announcement of Sadhu Yadav to enter into fray from Saran seat as an Independent came as a surprise. He was considered a power centre when Rabri Devi was chief minister of Bihar when Lalu Prasad was in jail in 1997 in a fodder scam case.
Meanwhile, BJP has trashed report that it had propped up up Sadhu Yadav to gain politically.
"Rabri could not control his own brother Sadhu Yadav from contesting against her and blaming BJP for his candidature," former Deputy Chief Minister Sushil Kumar Modi said in his twit message on micro blogging site.
With in inputs from PTI
Image: Sadhu Yadav