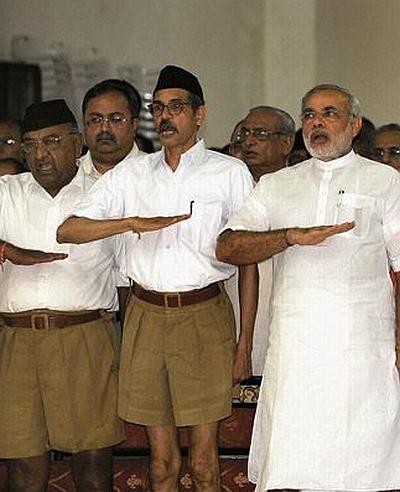 In an unambiguous message, the Rashtriya Swayamsevak Sangh on Friday asked the Bharatiya Janata Party, all set to assume office with Narendra Modi as prime minister, to set aside ideological, religious and social differences and create an environment where the nation stays 'united' and there is total social 'inclusiveness'.
"We are hopeful that everyone will now take constructive steps to get back to normal, amicable and positive environment in the interest of the nation," senior RSS leader Suresh Bhayya Joshi said in a statement.
Complete Coverage: Elections 2014
BJP has been facing flak from Congress and other parties, which have accused it of trying to divide people on communal lines and ignoring the interests of Muslims and other minorities.
"We are hopeful that the newly-elected government will be successful in fulfilling the people's aspirations. By setting aside the ideological, religious and social differences, we expect the new government to create an environment where the nation stays united, there is total social inclusiveness and no one ever feels exploited," he said.
Lauding the strong showing by the BJP-led National Democratic Alliance in the general elections, RSS said people have voted for a change in favour of the party's prime ministerial candidate Modi. "The mandate of the people for a change was expected. It's a matter of pleasure for us. We congratulate Modiji and the new government which is going to be formed under his leadership. We expect that it would do good work for the benefit of the country," RSS leader Ram Madhav said. He said it was also a matter of pleasure that BJP was set for a simple majority on its own in Lok Sabha.
On being asked about the role RSS would play in government formation, he said, "Sangh would have no role in government and in the Council of Ministers. It would be decided by the party and its leaders."