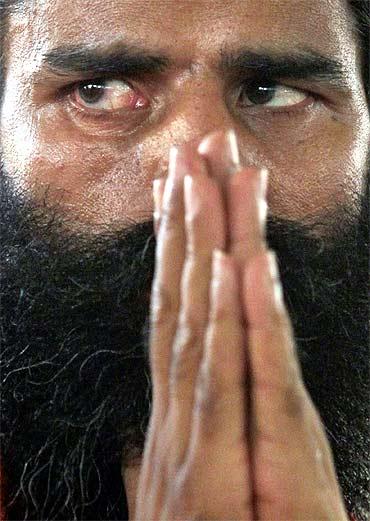 In the eye of a row over his comment that Rahul Gandhi visits Dalit homes for "honeymoon and picnic", yoga guru Ramdev on Saturday expressed regret to the Dalit community but claimed his remarks were "misrepresented".
Ramdev, however, insisted the Congress vice president visited homes of the poor for "publicity stunt, picnic or tourism".
"The statement I made has been misrepresented. The term honeymoon period is over is commonly used in political language. I tried to use it in that sense," Ramdev claimed.

Special Coverage: Election 2014
"I had no intention to insult honourable Rahul Gandhi or Dalit community. But this is also true that Rahul Gandhi goes to houses of poor and uses that opportunity as publicity stunt, picnic or tourism," he said, adding "I express regret if the use of that term has hurt the feelings of any community, especially Dalit community."
Ramdev was un Vadodara to attend a yoga Camp organised by his Bharat Swabhiman Trust.
The yoga teacher, who has been openly targeting the Congress and backing BJP's prime ministerial hopeful Narendra Modi, has been booked by Uttar Pradesh police for his remarks against Rahul made in Lucknow on Friday.
Ramdev had said Rahul visited Dalit homes "for honeymoon and picnic". "He goes to Dalits' house for honeymoon and picnic. Had he married a Dalit girl, then his luck could have clicked and he would have become the prime minister," Ramdev had said.

Condemning Ramdev's controversial, Bahujan Samaj Party supremo Mayawati threatened to launch a countrywide stir against the yoga guru and the BJP after the polls, if the saffron party did not take action against him.
The BJP should take immediate action against him (Ramdev), "otherwise after Lok Sabha elections, the BSP would launch a country-wide agitation against this baba, besides BJP and the SP," she said.
Mayawati while addressing a rally in Lucknow said, "The manner in which a big leader and campaigner of BJP Baba Ramdev raised a finger on the Dalit women and used indecent language, our party strongly condemn that."
"I demand the Chief Election Commissioner and even the SP that a case should be lodged against this yoga leader of the BJP under the laws framed to check harassment of women and under the Dalit Act and he must be send to jail, which is his right place," she said.
The BJP, however, came out in defence of Ramdev and said he is a "saint" whose words should be viewed in the context in which they were made and not as per the perception of the Congress leaders.
"Ramdev is a saint. When he selects words like honeymoon, which is an English word, the context should be understood and its usage seen and not be misconstrued...
"It did not have the kind of meaning as Congress leaders were viewing it as per their own perception," BJP spokesperson Shahnawaz Hussain said.

Image: Yoga guru Baba Ramdev