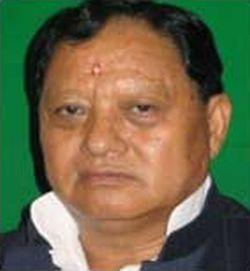 The Congress party on Monday expelled former Member of Parliament Mani Kumar Subba from the party for six
years with immediate effect for contesting election as an independent candidate from Tezpur Lok Sabha seat after he was denied ticket by the party.

Subba had represented Tezpur in Lok Sabha for three terms on the trot from 1998 to 2009 as a Congress candidate before he was defeated in 2009 election by Asom Gana Parishad's Joseph Toppo.
The Congress has this time fielded one of its MLAs, Bhupen Bora, from Tezpur constituency much to the dismay of Subba who decided to contest as an Independent from the constituency much to the chagrin of the party leadership.
Subba's presence in the fray is threatening to affect the prospects of the Congress candidate in Tezpur given that he is expected to win votes of sizeable section of the Nepali community voters in the constituency. Besides a large number of his followers within the Congress are seen campaigning openly him, much to the glee of Bharatiya Janata Partyand AGP opponents.

Subba maintains that his fight in the polls is not against the Congress candidate but against the BJP while the Congress leaders in Assam including Chief Minister Tarun Gogoi and the state Pradesh Congress Committee chief Bhubaneswar Kalita trying to make light of Subba's presence.