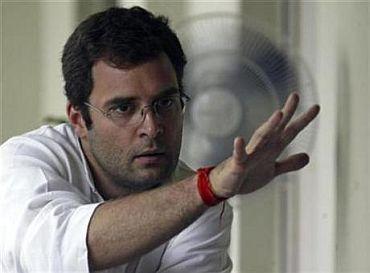 Congress Vice President has been receiving flak for skipping Prime Minister Manmohan Simgh's farewell dinner hosted by his mother Sonia Gandhi on Thursday.
Shiv Sena leader Sanjay Raut on Thursay accused the Congress Vice President Rahul Gandhi of insulting the Prime Minister Manmohan Singh by skipping the farewell dinner hosted in the latter's honour in New Delhi.

Special Coverage: Election 2014
"It was farewell for Rahul Gandhi as well (and) not just (for) the prime minister," Raut said when asked about the Congress scion not attending the dinner, which was hosted by Congress President Sonia Gandhi last night.
In a dig, the Shiv Sena spokesperson said that Rahul Gandhi mostly lives abroad and comes to India for holidays.
"After May 16, he will have to go again," Raut said citing exit polls that have predicted a rout for the Congress and victory for the Bharatiya Janata Party.
Rahul, who spearheaded the Congress' election campaign in just-concluded Lok Sabha elections, was conspicuous by his absence at the function, raising eyebrows in political circles.
According to reports, Rahul has probably gone abroad to take a break after a long period of campaigning and may return before counting of votes on Friday.
Samajwadi Party leader Naresh Agarwal also echoed Sena's views. "Rahul Gandhi has insulted the PM. He thought of himself, above the country," he added.

Image: Congress Vice President Rahul Gandhi