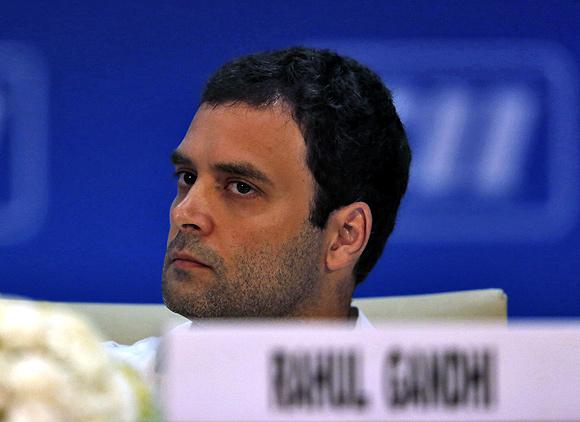 The absence of Rahul Gandhi at a dinner hosted by Congress President Sonia Gandhi in honour of outgoing Prime Minister Manmohan Singh raised political eyebrows.
Sources from the Prime Minister's Office said that Rahul had met Dr Singh on Saturday to thank him and told him that he won't be in town on Wednesday.
There was speculation that Rahul was probably traveling abroad and would be back before counting of votes for the Lok Sabha polls begins on Friday.
When asked why Rahul had not attended the dinner, Union Minister Kamal Nath said that he was not aware of the reason. "I do not know why he did not attend."

Special Coverage: Election 2014
Another minister R P N Singh when asked about questions raised over Rahul's absence said, "It is unfortunate that politics is being done over it."
The function at 10, Janpath, Sonia's residence, was held as a mark of gratitude by the party whose coalition government 81-year-old Dr Singh led for 10 long years.
Congress leader Ajay Maken said, "After three months of grueling campaigning, Rahul ji is out of town for two days. (He) will be back tomorrow (on Thursday). Rahul ji had already met the honourable prime minister on May 10 to personally thank him for his services and contribution rendered to the nation."
Later, Union minister Rajeev Shukla said that Rahul Gandhi had met the PM on Saturday and thanked him for his contributions. The Congress vice president had also expressed regret that he would not be able to attend the farewell function, as he would be out of town, he added.
But Jammu and Kashmir Chief Minister Omar Abdullah, whose party National Conference is an ally of the Congress, felt that a statement should have been put out in advance if Rahul was not to attend the farewell dinner.
"If you knew he (Rahul) was not attending the dinner and he had explained his absence to the PM earlier, put out the statement before the news breaks," Omar tweeted.

Image: Congress Vice President out of town, says the party