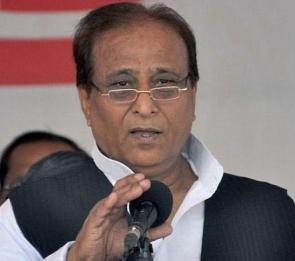 Poll authorities in Ghaziabad are suo motu probing the controversial remarks over Kargil war made by Samajwadi party leader Azam Khan.
"We are examining the 30-minute video speech of Azam Khan on Kargil War and other issues. We have stared probe and if he is found guilty, strict action would be taken against him," said a senior poll official, who didn't wish to be named.
Khan had kicked up a controversy earlier this week by saying it was "Muslim soldiers" who fought for India's victory in the 1999 Kargil war against Pakistan.
In a speech laced with communal tones, Khan had said during a party rally on Monday, "Those who fought for victory in Kargil were not Hindu soldiers, in fact the ones who fought for our victory were Muslim soldiers."
The controversy-prone Khan, a minister in the Uttar Pradesh government, had also called Narendra Modi's close aide Amit Shah "Gunda no 1", saying he has come to Uttar Pradesh to "create terror".
Meanwhile, the BJP on Wednesday demanded strong action by the Election Commission against Samajwadi Party accusing it of trying to divide security forces on communal lines during the elections.
"This is election time and the EC has responsibility to conduct the polls impartially. Security forces have a crucial role to play in the elections. If any body tries to do communal politics over security forces, then it will have a serious repercussion on electioneering," BJP spokesperson Sudhanshu Trivedi said in New Delhi.
He said, "The EC, keeping this in mind (Khan's statement on Kargil conflict) should take it seriously and initiate strong action against SP immediately."
Terming the UP minister's remark as an "insult to the bravery of the soldiers," Trivedi said, "The communal comment by Azam Khan during the elections shows the politics of communalism. It is an attempt to communalise national security."
He also asked SP leaders whether they visited the houses of soldiers who died at the border.
"We would like to ask SP that if its leaders have visited the house of any soldier who died at the border. On the contrary, SP and Congress leaders had gone to visit the houses of terrorists but not visited even the house of the soldier whose head was severed," he said.
Trivedi said one of the jawans was from UP and three senior BJP leaders, including Sushma Swaraj and Nitin Gadkari, had visited his house.
Attacking SP and Congress, he said, "It clearly shows that they do not have concern for them and now they are indulging in low-level politics."