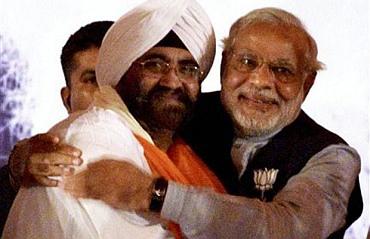 In an embarassment to Congress, Prime Minister Manmohan Singh's step-brother Daljeet Singh Kohli on Friday joined the Bharatiya Janata Party at a public rally in Amritsar in the presence of the party's prime ministerial candidate Narendra Modi.
Special Coverage: Election 2014
The entry of Kohli, a local businessman, into the BJP came a day after the prime minister rejected perceptions of a 'Modi wave' in the country. Lok Sabha elections in Punjab are due in one phase on April 30.

Welcoming Kohli into the BJP fold, Modi said he will further strengthen the party.
"Today, Prime Minister Manmohan Singh's brother Daljeet Singh has joined BJP. This will further strengthen us. We are not a party which talks of membership but one which forms relations," the Gujarat chief minister said.

Punjab Chief Minister Parkash Singh Badal and senior BJP leader Arun Jaitley, a Lok Sabha candidate from Amritsar, also welcomed Kohli at the rally.
PMO sources said Manmohan Singh's family was "shocked" at the turn of events involving Kohli. "His intentions are not known but he is free to pursue his political career," they said, adding the prime minister and Kohli have not been keeping in touch since long.
Prime Minister Singh is the only son and has six sisters while Kohli is his step-brother, the sources said. The prime minister's mother died at an early age.