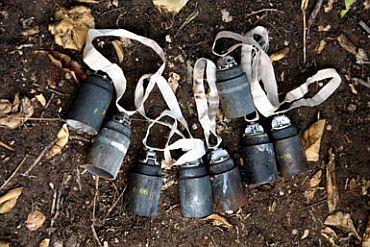 Ever since the Election Commission sounded the poll bugle on March 5, over 800 kg of explosives and 127 improvised bombs have been recovered by security forces from across Naxal violence-hit areas.
The maximum of these killing traps and deadly ammunition, aimed at security forces and poll officials, have been recovered by the Central Reserve Police Force from Left-wing extremism affected areas of Bihar, Jharkhand, Chhattisgarh, Maharashtra and Odisha.
According to an official report, a maximum of 61 Improvised Explosive Devices were recovered from Bihar, 33 from Jharkhand, 24 from Chhattisgarh and 9 from Odisha.
Apart from these, 750 kg of explosives was seized from Bihar, 53 kg from Jharkhand, .5 kg from Chhattisgarh and 3.8 kg from Odisha, taking the total to 807.3 kg during the period between March 5 and April 20. During the same period, 10 IED explosions took place in Bihar, 6 in Jharkhand and 13 in Chhattisgarh.
The maximum casualty for the CRPF took place in Bastar in Chattisgarh where 20 personnel were killed and 15 others were injured. Five CRPF men were also killed in Bihar during poll duties in the Maoist grid.
A total of 52 arms were also recovered during the same period with 10 weapons found in Bihar, 21 in Jharkhand, 15 in Chhattisgarh, 5 in Odisha and 1 in Maharashtra. Similarly, a total of 452 rounds of ammunition were recovered by the paramilitary force from these states with 355 rounds in Jharkhand, 47 in Bihar, 37 in Chhattisgarh and 13 rounds in Odisha.
Apart from these, 52 encounters have taken place between the CRPF and insurgents, with Chhattisgarh recording the highest with 33 encounters. Jharkhand followed suit with 11 such operations whereas Bihar recorded four incidents.
A pooled contingent of close to 1.3-lakh paramilitary and state police personnel have been deployed to exclusively cater to election-related duties. In addition to them, another 1.2 lakh personnel and special units are already present in the Naxal-affected areas to undertake operations and facilitate smooth movements of these forces across various states.
Image for representational purposes only.