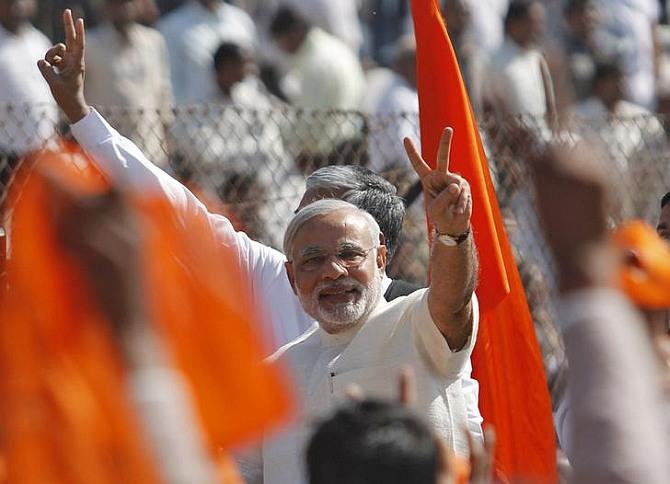 Bharatiya Janata Party prime ministerial candidate Narendra Modi got more than 33 per cent coverage on national TV channels during prime time in March and April, beating the likes of Aam Aadmi Party chief Arvind Kejriwal and Congress' Rahul Gandhi.
A study carried out by CMS Media Lab shows that the Gujarat chief minister received 2,575 minutes of TV time from March 1 to April 30. Kejriwal came in second with a total of 799 minutes or 10.31 per cent, a turnaround in rankings, as the AAP chief had defeated Modi and others from March 1 to 15.
Complete Coverage: Elections 2014
Rahul, the Gandhi family scion, is third with 336 minutes, closely followed by his sister Priyanka who got 171 minutes of airtime. Priyanka is, in fact, the most covered female politician in the top 10 list as she beat her mother Sonia Gandhi, who clocked in 156 minutes and Trinamool Congress supremo Mamata Banerjee.
Prime Minister Manmohan Singh, who was the centre of attention for a period due to the controversial book written by his former media advisor Sanjaya Baru, secured the sixth position with 143 minutes, followed by Samjawadi Party's Mulayam Singh with 142 minutes, BJP's Amit Shah with 107 minutes and Maharashtra Navnirman Sena chief Raj Thackeray with 102 minutes.
"This analysis reminds us once again that coverage of the 2014 poll is all about personalities. Despite extensive coverage, there was no qualitative shift in the priorities of coverage. Corruption, the Election Commission and opinion polls, in that order, received more coverage among issues next to development and governance related issues," said CMS Media Lab.
Party wise, the BJP is far ahead of its competitors. The saffron party grabbed the first position with 1,507 minutes, followed by Congress with 1,101 minutes. AAP acquired the third position with 742 minutes, followed by SP with 176 minutes, Shiv Sena with 72 minutes and the Bahujan Samaj Party with 57 minutes.
The analysis studied Aaj Tak, ABP News, Zee News, NDTV 24x7 and CNN IBN channels.