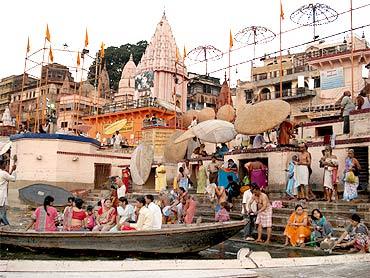 The owner of Yelchiko, the oldest liquor bar in Varanasi, must be laughing all the way to the bank and he has none other than the elections to thank for his windfall.
The decision to relocate the bar to an area, now considered as an epicentre of poll activities has reaped high dividends. The bar is right in front of Bharatiya Janata Party's prime ministerial candidate Narendra Modi while offices of other major parties such as the Congress, Samajwadi Party and the Aam Aadmi Party are also in the vicinity.
As a result, the bar is doing brisk business, especially in the evenings and later hours.
While owners of this bar refused to comment owing to political issues, waiters and shopkeepers of the area said the bar drew in huge crowds ever since various political parties had set up offices in its vicinity. Business is expected to further pick up, as the polling date nears as that is likely to bring in many more supporters and party workers to Varanasi.
Yelchiko, which is considered to be at least three decades old, used to be located in the crowded Godowliya area, which has thousands of small and big shops and is close to the famous KashiVishwanathTemple. However, the owners decided to re-locate to the more upmarket Sigra area more than a decade ago to catch on traders and upper middle-class residents
Other than Yelchiko, bars and restaurants of high-end hotels in Cantonment area are also doing brisk business, as many senior leaders of various parties are staying there and meeting various kinds of people in these bars and restaurants.
Managers at some of these hotels said on condition of anonymity that the bills are getting mostly generated in the name of individuals and not the political parties and these rarely include any senior party leader even if they are present there.
Image: The Dashwamedh ghat in Varanasi