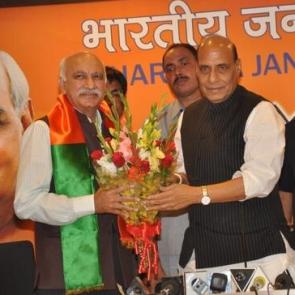 Author and senior journalist M J Akbar joined the Bharatiya Janata Party in the presence of party president Rajnath Singh.
Akbar, who was a Congress MP from Kishanganj in Bihar between 1989 and 1991, switched over to the BJP bandwagon ahead of the Lok Sabha polls. He was Congress party spokesperson in 1989 ahead of the Lok Sabha polls.
He said that he has come back in politics for its policies and work to bring the nation back into a "recovery mission". "I have come back to politics because of policy (main rajniti me niti ke liye wapas aya hu). The crisis in front of the country is known to all. This is an opportunity to do whatever little we can do for our country," he said after joining the party.
"It is our duty to join hands with the voice of the nation and bring the country back to a recovery mission. I look forward to working in BJP," he told reporters.
Welcoming the senior journalist in the party fold, BJP president Rajnath Singh said people working in different areas like sports, politics, films and literature have joined the party. "Now prominent people from the media too are accepting membership of the BJP to give this country a stable government." "Akbar is known to be one of the stalwarts in media and has accepted to join the party. I welcome him," said Singh.
Akbar, who was close to former prime minister Rajiv Gandhi, acknowledged that the latter was a friend and 20 years have passed since that.
Backing Modi, Akbar said that no other leader has gone through so much scrutiny as has Modi. "It is not only that there is crisis. But now I also see a solution to the crisis. Narendra Modi's leadership is essential for the country," he said.
"In ten years, no other politician has gone through so much scrutiny as Modi has gone through. He was scrutinised by the police, the central government, the CBI, a court-appointed institution," he said.
"And those who rake up this issue all the time, I want to tell them to read the Justice Krishna report. How many people are there in Gujarat, who are in jail through the legal system. More than 100. Can one tell me the numbers as far as the 1984 and 1993 riots are concerned," he said. He also hoped that Muslims would join hands with the BJP as they are equal citizens of the nation and will come out of the "politics of fear".
Image: Journalist M J Akbar with BJP President Rajnath Singh