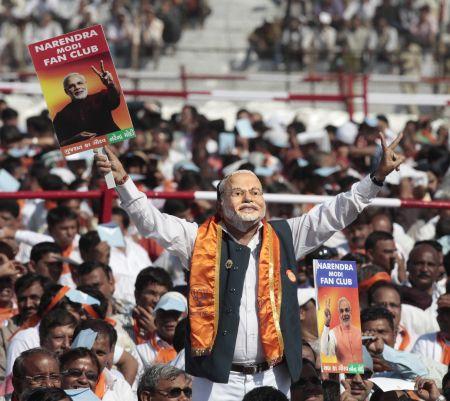 Amid an all-out attack by the Bharatiya Janata Party, the Election Commission on Friday said permission to Narendra Modi's rally in Varanasi city was denied after the Gujarat police said the venue was not suitable but regretted the "delay" in conveying the decision to the party concerned.
A Gujarat police official, who was part of the advance security liaison team of the BJP's prime ministerial candidate, had "indicated" that the chosen ground for holding the rally was not a "desirable" place for the VIP to attend, Election Commissioner H S Brahma said.
Special Coverage: Election 2014
The Gujarat police official said it would "not be possible" to hold a rally at the venue as it was "highly congested" and "complicated", Brahma said during an interaction with Indian Women Press Corps.
Modi, who is contesting from Varanasi, was to address the rally in Benia Bagh area of the city on Thursday but the district authorities denied permission citing security reasons. Describing the permission issue as "purely an operational problem", Brahma said, "You are entitled to take a decision under law. You have a right and duty to take a decision."
However, at the same time, he said, "the person has a right to know yes or no... It should be communicated in an appropriate time. My only point is that there should be no delay in saying a yes or no."
Terming the entire episode as "unfortunate", the commissioner said things "should not have escalated" to a level that it comes to the central poll.
Brahma said that since Varanasi was a VIP constituency and the authorities were dealing with "a very important" personality, the decisions should have been conveyed fast so that issues do not crop up.
The authorities should be "prompt" and quicken the process, he said, adding "if you take 20 minutes normally, you should, may be take 10 or five minutes." Talking further about the Varanasi incident, Brahma said as human beings, "Courtesy demands that if someone speaks to you, you should give time and you should talk."
He added, "When things can get solved at local Thanedaar or Tehsildaar level why do you escalate to that (EC) level? If someone approaches you with a genuine request, my opinion is that let your opinion be known to the person promptly."
The Election Commissioner was also asked about remarks being made about the EC that it was biased in taking certain decisions. "We should be open to criticism and we should be ready to accept suggestions. This is how the system improves," he replied. On words like 'timid' used against the EC, Brahma said these were subjective in nature. He also rejected suggestions that there were differences amongst the three commissioners. "How can we be divided? We are too small a group to be divided. We are old fellows, retired chaps," Brahma quipped.