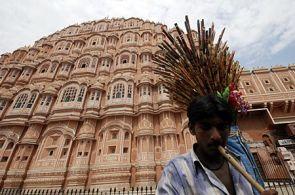 For the first time in the Jaipur City constituency not a single rally has been held for any candidate contesting for the state capital seat.
The Congress has not sent anyone to campaign for its sitting Member of Parliament Mahesh Joshi, nor has the ruling Bharatiya Janata Party for its candidate Ramcharan Bohra.
Even the Aam Aadmi Party, which has claimed its candidate Dr Virendra Singh as among the best, held no rally.
The three top running candidates have been going door-to-door visiting the voters and holding road shows.
On Monday, Chief Minister Vasundhara Raje held a road show for party candidate Bohra.
The BJP has also not held any rally in the adjoining Jaipur Rural constituency where Olympian Rajyavardhan Singh Rathore has been pitted against Congress veteran CP Joshi.
The Congress, however, had its party president Sonia Gandhi address a rally on Monday for Joshi.
Interestingly, political pundits differ on the significance of holding a rally in the state capital seat.
"BJP candidate Ramcharam Bohra seems over confident of winning the seat so they did not call any national leader here. While there is so much infighting within the state Congress that no one is rooting for Congress Jaipur City candidate Mahesh Joshi. AAP is a new party and is contesting from several seats. It has not had the time not concentrate here," said Anand Choudhary, a senior journalist.
Image: A vendor plays a flute as he tries to attract people to buy flutes in front of Hawa Mahal in Jaipur
Photograph: Krishnendu Halder/Reuters