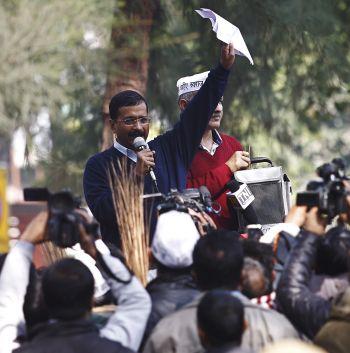 Congress on Sunday said it would prefer fresh elections in Delhi to supporting the Aam Aadmi Party again to form a government as favoured by a section of AAP members of legislative assembly following the drubbing in the Lok Sabha polls.
Chief spokesperson of Delhi Congress Mukesh Sharma said AAP has no moral right to talk about formation of a government in Delhi again after it went to the Supreme Court seeking the dissolution of the assembly and demanding fresh elections. "There is no question of extending support to the AAP to form a government again. Arvind Kejriwal had deserted people of Delhi by resorting to theatrics. He had gone to the Supreme Court seeking dissolution of the House. We will not support the party again," Sharma said.
After its spectacular performance in the assembly polls, the AAP drew a blank in the Lok Sabha polls though its candidate came second in all the seven constituencies relegating all the sitting Congress members of Parliament, including Kapil Sibal, Ajay Maken and Krishna Tirath to the third position.
Complete Coverage: Elections 2014
"Congress never withdrew support to AAP government. Kejriwal quit the government and left the people of Delhi in a lurch to gain political mileage in the Lok Sabha polls. As they did not succeed in the Lok Sabha polls, they are talking about forming the government again," added Sharma.
In the Lok Sabha polls, BJP not only won all seven seats but also came first in 60 assembly segments out of 70, while AAP occupied the top position only in 10 assembly segments.
Following the party's dismal performance, some AAP MLAs had on Saturday mooted a proposal for the party to once again form the government in Delhi, with support from either the Bharatiya Janata Party or the Congress. A section in the party feels that it should not opt for going to polls immediately and should explore forming the government again. Sources in AAP said majority of sitting MLAs in the party did not want to fresh elections immediately thinking the Modi wave may flatten them all if polls are held anytime soon.
Sharma said notwithstanding Congress' poor show, the party was ready for fresh elections. "We are ready for elections," Sharma said. The BJP has already said that it would prefer fresh elections than forming a government through 'manipulation'.
In December 2013, the AAP had won 28 seats in its debut assembly elections and had later formed the government with outside support from the Congress' eight MLAs. However, the government led by Arvind Kejriwal resigned after the party's pet project -- the Janlokpal Bill -- could not be passed due to opposition from the BJP and the Congress.