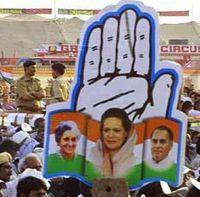 Virtually friendless in Tamil Nadu, Congress on Monday said it would be going it alone in the state in the upcoming Lok Sabha polls.
"There is no possibility of any alliance in Tamil Nadu as of now," Congress general secretary Shakeel Ahmed told reporters in New Delhi.
The above statement comes amidst reports that the party's last-minute efforts to stitch together an alliance with Dravida Munnetra Kazhagam was blocked by its senior leader MK Stalin even as the actor-politician Vijaykanth-led Desiya Morpukku Dravida Kazhagam joined hands with BJP.
In the 2009 elections, Congress, then a partner in the DMK-led DPA, had contested 16 seats and won nine while the alliance itself claimed an impressive tally of 28 seats.
DMK was part of the Congress-led UPA since it came to power at the Centre in May, 2004, but last year parted ways with the ruling alliance.
Neither do the Left parties have any alliance in Tamil Nadu after the Jayalalithaa-led ruling AIADMK parted ways with them over seat-sharing.
AIADMK is contesting all 39 seats in Tamil Nadu on its own along with the lone constituency in the neighbouring Union Territory of Puducherry. DMK has firmed up an alliance with IUML, MMK, VCK and Puthiya Tamizhagam.
Alliances have played a major role in the outcome of Lok Sabha elections in Tamil Nadu with the combination led by either of the two main Dravidian parties, AIADMK and DMK, winning a majority of the seats in past elections.